Thousands of people attended 30th International Kurdish Culture Festival
Thousands of people from several countries took part in the 30th International Kurdish Culture Festival in Landgraaf, the Netherlands.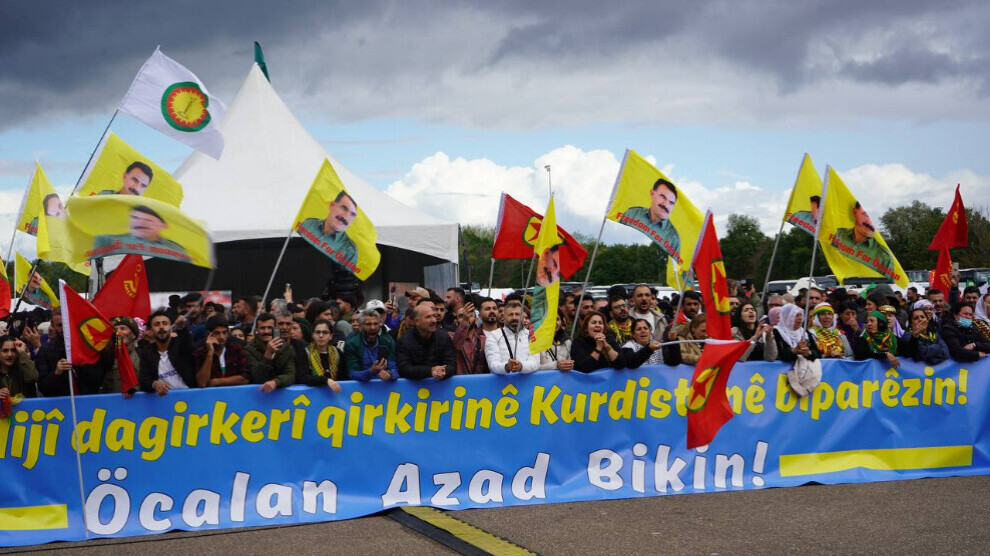 Thousands of people took part in the 30th International Kurdish Culture Festival in Landgraaf in the Netherlands on Saturday. Participants from Germany, France, Belgium, Switzerland, Austria, Italy and England have traveled to the event under the slogan "Defend Kurdistan against occupation and genocide - free Abdullah Öcalan".
The stage program began with a minute's silence for the fallen Kurdistan and a welcome speech by Yüksel Koç and Fatoş Göksungur, the co-chairs of the European association KCDK-E. Another speech was given by the co-chair of the KNK (Kurdistan National Congress), Ahmet Karamus.
The participants of the Kurdish-internationalist youth march, which set off from Essen a week ago, also arrived at the festival.
A representative of the Kurdish youth movement, Çekdar Serhat, gave a militant speech in which he called for Abdullah Öcalan's isolation to be broken.
When Ilham Ehmed, Chair of the Syrian Democratic Council (MSD) Executive Committee, said that the Rojava revolution was also a revolution of language and culture and today, education in one's own mother tongue is held from primary school to university.
Between the speeches, the music groups Koma Rêya Heq and Koma Rojava, as well as Koma MA, who had traveled from Amed, took to the stage.
A message from the KJK (Community of Kurdistan Women) was read out. On behalf of the Freedom for Abdullah Öcalan Initiative, Fazela Mahomad from the Kurdistan Solidarity Group from South Africa and Kariane Westrheim, Professor of Education at the University of Bergen and Chair of the EU Turkey Civic Commission (EUTCC), gave speeches emphasizing the importance of Abdullah Öcalan for a political solution to the Kurdish question.
Video messages from Besê Hozat and Cemil Bayik (KCK), Duran Kalkan (PKK) and Murat Karayilan (HPG) were then played. The festival ended with a performance by Koma Şengal.