Thousands protest against Erdogan in Cologne
Masses staged a demonstration in Cologne to protest against Turkish President Erdogan whose official visit in Germany continues.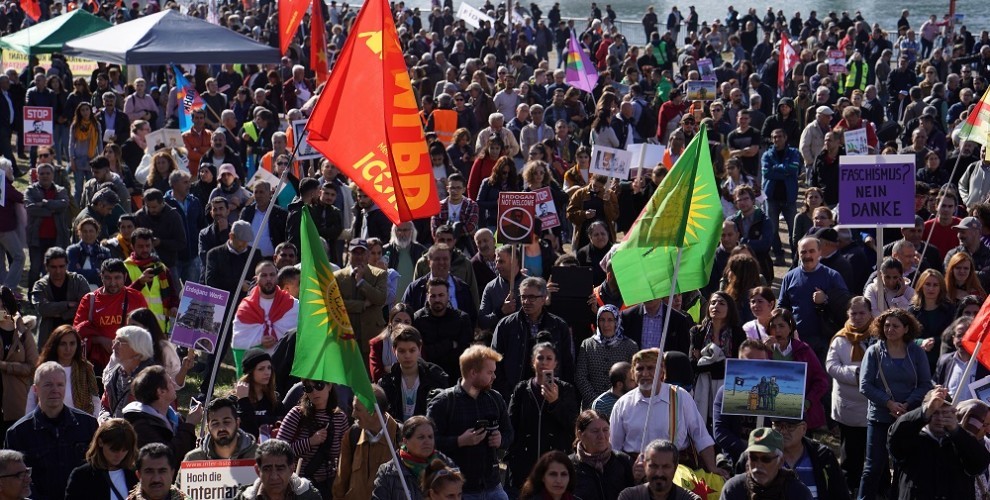 Protests against Turkish President Recep Tayyip Erdogan, who is on an official visit in Germany for three days, are continuing.
Following Friday's mass rally in capital city Berlin, thousands have gathered in Cologne city on Saturday in protest at the Turkish dictator.
The demonstration was organized by the "Erdoğan Not Welcome" platform which was formed by dozens of institutions and associations.
"Murderer Erdogan" and "Dictator Erdogan" read the banners held by demonstrators who also chanted slogans in protest against the Turkish president.
"ERDOGAN IS AN ENEMY OF HUMANITY"
Holding a speech at the rally, KCDK-E (European Kurdish Democratic Society Congress) Co-chair Yuksel Koc stressed that nobody wants Erdogan in Germany. He continued: "Erdogan is an anemy of all peoples and humanity, and a friend of ISIS.  With this invitation, Angela Merkel has become an accomplice to the massacres against the Kurds."
Referring to the isolation imposed by the Turkish regime on Kurdish People's Leader Abdullah Ocalan, Koc said: "We will never accept this isolation regime. Ocalan is the leader of the Kurdish people. We will continue our actions for his freedom."
"ERDOGAN IS A TERROR OFFENDER"
Speaking after, German politician Norman Paech said it was a shame that Erdogan is being welcomed in Germany, telling the following: "He is the head of a dictatorial regime. Today, journalists, politicians and academics are behind bars in Turkey. These are the practices of Erdogan. Still, despite all these truths, he is being welcomed in Germany. This is a shameful scene. Erdogan is waging a war and terror against the Kurds. He has the blood of thousands of people in his hands, from Cizre, Sur, Nusaybin and entire North Kurdistan. Such a dictator musn't be welcomed here because he is a terror offender."