Tightening anti-terror laws, Sweden passes constitutional amendment
The Swedish parliament passed a constitutional amendment that allows for a tightening of anti-terror laws. The Left Party sees this as a genuflection to the Turkish president and, like the Greens, voted against it.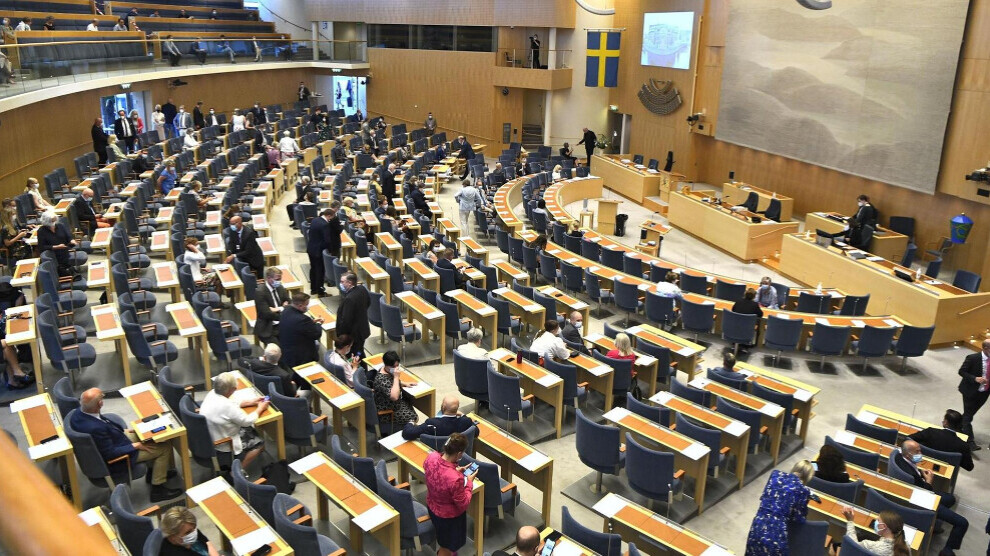 The Swedish parliament has passed a constitutional amendment that allows for a tightening of anti-terror laws. 278 of the 349 members of the Swedish Parliament voted in favour of the amendment on Wednesday, with only the Left Party and the Greens voting against. Turkey had made its consent to Sweden's NATO accession conditional on this step. The constitutional amendment will come into force at the turn of the year.
In future, it will allow the Swedish government to introduce new laws restricting freedom of assembly when it comes to associations involved in or supporting terrorism. Until now, Sweden had made its anti-terror laws comparatively liberal in order to protect freedom of association. For example, charges for mere membership of a group suspected of having a terrorist background are not permitted.
In addition, foreign espionage is criminalised and included in the Penal Code. The amendments also mean restrictions on the right to provide information that could harm Sweden's relationship with other states or organisations, such as the UN or NATO. According to the government, the purpose is to strengthen Sweden's security and close legal loopholes.
Media organisations, on the other hand, see the protection of journalistic sources as a cornerstone of press freedom endangered and thus democracy and freedom of expression threatened. The Swedish section of the International Commission of Jurists (IJC) stressed that the proposal would have an intimidating effect on whistleblowers and other important sources for investigative journalists. Several media professionals had protested in front of the Riksdag before the vote.
Criticism arose from the ranks of the Swedish Left Party that the amendments to the law were a "genuflection to the Turkish president". Recep Tayyip Erdoğan will only agree to Sweden joining NATO if the country takes tougher action against the Kurdish liberation movement, which is supported by the Kurdistan Workers' Party (PKK), and the People's Defence Units (YPG) active in Rojava, which form the backbone of the Syrian Democratic Forces (SDF). Sweden had applied for NATO membership in the wake of the Russian attack on Ukraine in May. Except for Hungary and Turkey, all member countries have ratified this application. Erdoğan is demanding that the Swedes extradite alleged "terror" suspects, among other things. But the Swedish judiciary does not make extradition easy - so far, anyway.