Turkey invasion protested in Mulhouse, Hamburg and Saarbücken
The protests of the invading Turkish state against North East Syria were protested in the cities of Muhlouse, Hamburg and Saarbücken.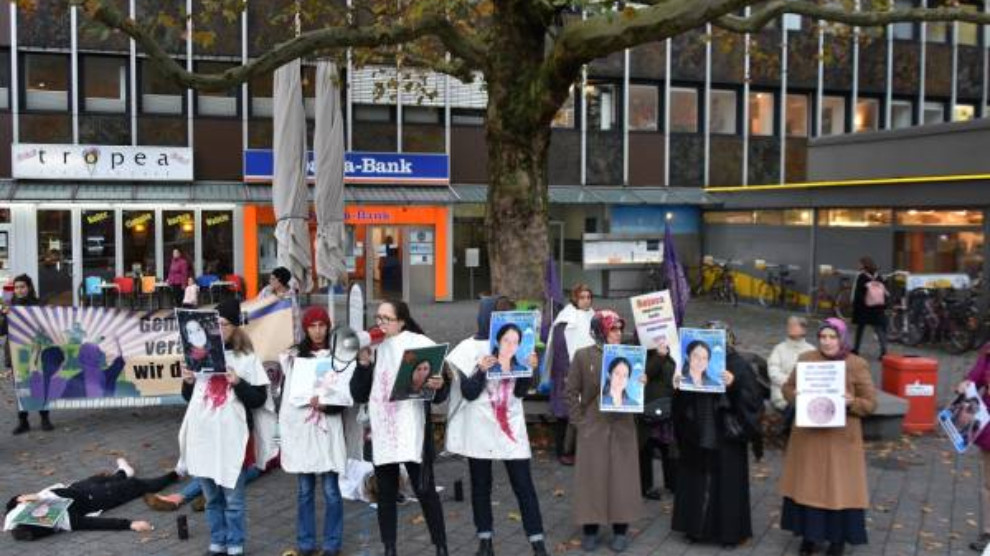 Demos organised by Kurdish people and their friends living in Europe continue in protest of the Turkish State attacks on Rojava.
HAMBURG
In Hamburg, Turkish women protested against the invasion and genocide attacks of the Turkish state in North East Syria.
A group of women from the Defend Rojava Initiative came together and performed a piece about the destruction caused by war in the street.
The activists carried photos of the women who lost their life during the invasion attacks carried out by Turkey, Fatma, Amara Renas, Hewrin Xelef, Zin Qobanê, Sevrinaz, Sara, Sozdar Muhammad and of the little boy, Muhammad Hamit, whose body was burned with the phosphorus bombs used by Turkey. The activists read the story of their life and struggle.
Women stayed on the ground with the sound of a siren for 10 minutes with images of people who lost their lives in the war.
SAARBRÜCKEN
Turkey's occupation of Rojava was protested in Saarbrucken. The action promoted by Kurds and their friends was held in front of the Europagals.
Activists lit candles to commemorate those who lost their life in the attacks. Turkey was condemned for the use of chemical weapons and the continuous massacre of civilians. To protest the silence of the European countries, activists put the shoes in a line, to represent those who lost their life with European weapons. 
Zozan Rojava addressed the crowd on behalf of the PYD.
MULHOUSE
The Rojava Solidarity Committee organised an action in Mulhouse to protest the attacks on Rojava carried out by Turkey.
The statement read at the demonstration said that the main aim of the Erdogan regime was to commit genocide against the Kurdish people.