Turkish parliament strips three MPs of immunity
Two HDP MPs and one CHP MP had their parliamentary immunity removed on Thursday.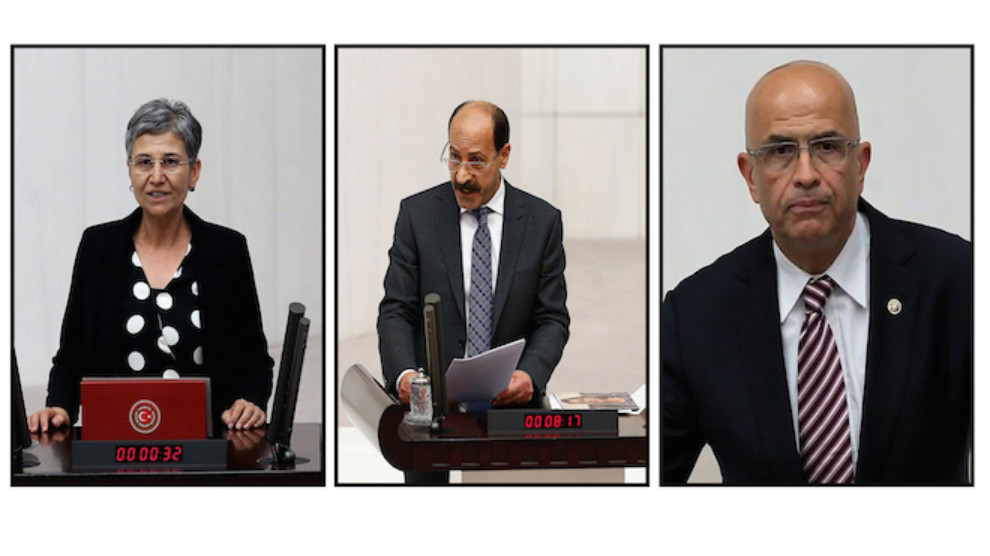 The Turkish Parliament on Thursday approved stripping three of its members of immunity from prosecution.
The affected deputies are HDP (Peoples' Democratic Party) Hakkari MP and DTK (Democratic Society Congress) co-chair Leyla Güven, HDP Diyarbakır MP Musa Farisoğulları and CHP (Republican People's Party) Istanbul MP Enis Berberoğlu.
The decision announced at Plenary Session was based on the final court order for prison sentences given for the three deputies. The decision was met with tension and protests.
CHP Parliamentary Group Deputy Chair Engin Altay raised on objection saying that the revocation of membership in parliament was unconstitutional. Tensions continue in the parliament.
Altay described the revocation of immunity as a coup against the parliament, an imposition and instruction.
HFP Group Deputy Chair Meral Danış Beştaş said; "You are after the legitimization of yet another unlawfulness. The November 4 coup is continuing. This is a pro-coup government."
Beştaş continued: "The judiciary doesn't base on humanity. This government has nothing to do with the parliament and popular will. Leyla Güven and Musa Farisoğulları have received prison sentences in the KCK main trial. Those judges are in prison now in the scope of FETO case. They have received a life sentence. With the prison sentences given by these judges, you are removing the immunity of our deputies, who hundreds of thousands have voted for. Do not ever claim to be fighting the FETO. You are instead saying that you will continue to stage coups in the 27th term as well. The people of Turkey and we all know only very well that you are the real coup plotter. Why didn't you allow the trial of Hakan Fidan? Why didn't you allow any trial for theft and corruption? You instruct the judiciary and refer these decisions to the parliament. I am asking, who gave this order and why was this decision read out today? This is fascism. This is the oligarchy of the majority."
DTK co-chair and HDP MP Leyla Güven followed the General Assembly from the DTK headquarters in Diyarbakır. Her first comment on the removal of immunity was "Berxwedan jiyan e" (Resistance if life).