Van-Xoy earthquake: 9 killed, hundreds of houses demolished
According to Turkish officials, 9 people died, 250 houses and 300 barns were demolished as a result of the 5.9 magnitude earthquake that shook Bakur-Rojhilat border Sunday morning.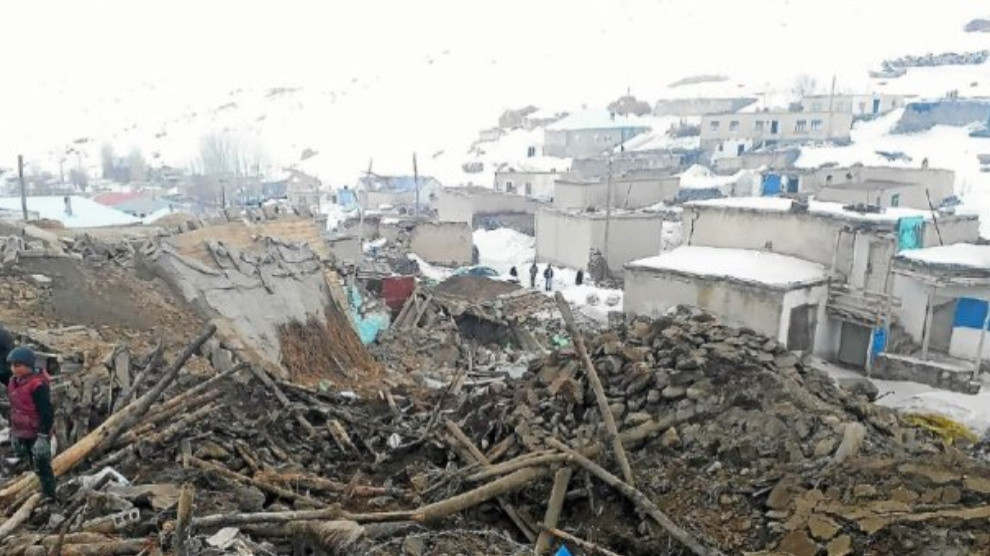 A 5.8 magnitude earthquake shook the border between Northern Kurdistan (Bakur) and Eastern Kurdistan (Rojhilat) Sunday morning.
At least 67 people were injured by the earthquake in Eastern Kurdistan.
Turkish Interior Minister Süleyman Soylu stated that 9 people died, 250 houses and 300 barns were demolished in Van as a result of the earthquake while 700 houses were heavily damaged.
According to Soylu, a second earthquake that hit the same area at 7pm in the evening did not result in any casualties or damages. Local sources, however, report that this earthquake of 5.8 magnitude caused demolishment and left some trapped under the debris.
Earthquake victims in Van call for help and solidarity as they spend the night in tents at minus ten degrees.
AT LEAST 67 INJURED IN EASTERN KURDISTAN
According to Iranian officials, the first earthquake in Xoy region left at least 67 people injured, of whom 39 were hospitalized. Damage was suffered in 43 villages in the affected area.
The last deadly earthquake in Northern Kurdistan occurred in Elazığ province on January 24. The 6.8 magnitude earthquake, with epicenter in Sivrice district, claimed the life of 41 people.
Eastern Kurdistan experienced a destructive earthquake in 2017, the traces of which are still alive. At least 620 people lost their lives and 8,500 others were wounded in the earthquake of 7.3 magnitude that occurred on November 12, 2017 in Kermanshah. The biggest in Iran for the last 10 years, the earthquake cost over 70.000 people their homes.