Victims of Yazidi genocide remembered in Geneva and Bern
The victims of the ISIS genocide of 3 August 2014 in Shengal were commemorated in Geneva and Bern in Switzerland. The commemorations called for the massacre to be recognised as genocide and for autonomous status for Shengal.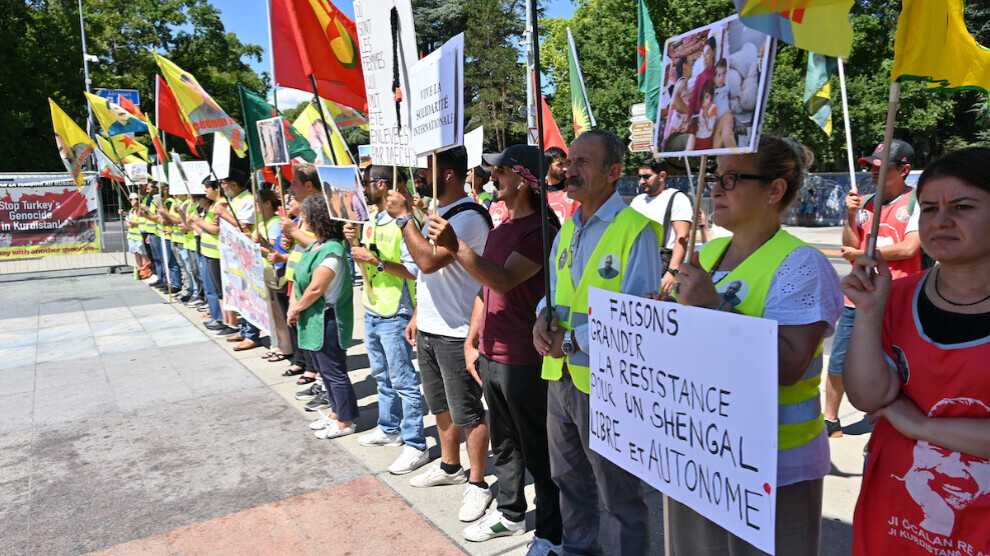 The victims of the ISIS genocide in Shengal on 3 August 2014 were remembered in Geneva and Bern on Wednesday. The vigil of the Kurdish community in Switzerland, which is held every Wednesday in front of the UN headquarters in Geneva, began with a minute's silence for the thousands of people killed in Shengal and those who died in the Kurdish liberation struggle.
Berfin Sağlam and Mülkiye Aşırbaev made statements on behalf of the Kurdish community calling for the recognition of the massacres committed by the terrorist militia ISIS against the Yazidi community as genocide and for an autonomous status for Shengal.

The speakers recalled that at the beginning of the ISIS attacks, only a small group of PKK guerrillas assisted the Yazidis. They demanded that this be recognised by the UN and the Western countries.
After the speeches, the participants symbolically turned their backs on the UN building to protest against the international community's silence on the war in Kurdistan.
Service in Bern
A memorial service was held in the Heiliggeistkirche in Bern, attended by members of the Kurdish community, the Yazidi community, the Syrian society in Switzerland and the Alevi umbrella organisation FEDA. The pastor of the church offered prayers for the victims of the ISIS attack in Shengal.

Songül Çelik gave an address on behalf of the Mesopotamian faith communities, in which she made special reference to the murdered and abducted women and girls. She said the Yazidi community had been subjected to repeated massacres throughout its thousands of years of history. Çelik demanded that the last coherent settlement area of the Yazidis in Shengal be granted autonomous status so that such waves of persecution would not be repeated.