Women of Rojava take over Freedom for Öcalan Vigil in Strasbourg
The women of Rojava took over the Freedom for Öcalan Vigil in Strasbourg on its 544th week. They condemned the attacks by the Turkish state and said that the Kurdish People's Leader's resistance in Imrali is the resistance of humanity.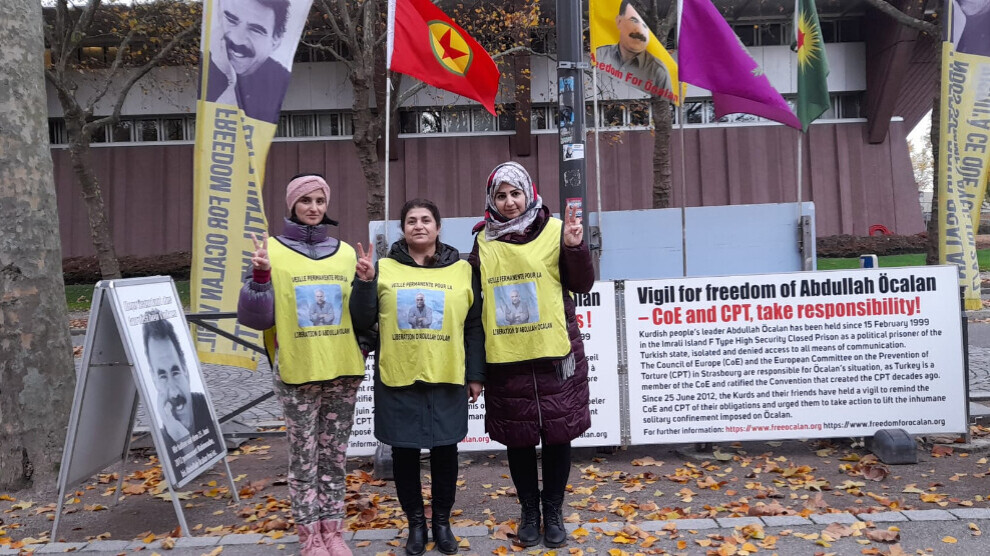 The Freedom for Abdullah Öcalan Initiative launched the vigil on 25 June 25 in Strasbourg to demand freedom for Kurdish people's leader Abdullah Öcalan and to break the isolation imposed on him.
The vigil on its 544th is carried out by Kongra-Star women. The group includes Fadila Mohamed, Yanis Basîma and Hêvî Hamî.
Group spokesperson Fadila Mohamed said: "We, women from Rojava Kurdistan, are here on behalf of Kongra Star to take over the vigil for the liberation of Rêber Apo [Abdullah Öcalan]. We will be here for a week, to protest the isolation imposed on our leader in Imrali for 24 years. Our leader is our will. This action will continue until the freedom of Rêber Apo is achieved. Because the European states and the whole European system are violating the laws on human rights. The Kurdish people are waging a unique struggle for freedom and existence today. This struggle is for all peoples of the world. Because the democratic nation system and the democratic Middle East system are being implemented in Rojava today. But the Turkish state never accepts this. It attacks our people on a daily basis. Turkey is attacking Kurdistan. Women, children, military forces, make no difference to Turkey."
Mohamed continued: "Our people in Rojava waged a very tough war against ISIS. We put up great resistance for the whole world. However, the world is turning a blind eye to what the Turkish state is doing. Here in front of the European Parliament, we condemn what has been done to our people and what has been done to our Leader. We will never accept it. On this basis, we call on our people and on the international community: enough is enough!"