Yazidi genocide discussed at European Parliament
A conference took place at the European Parliament about the Yazidi genocide.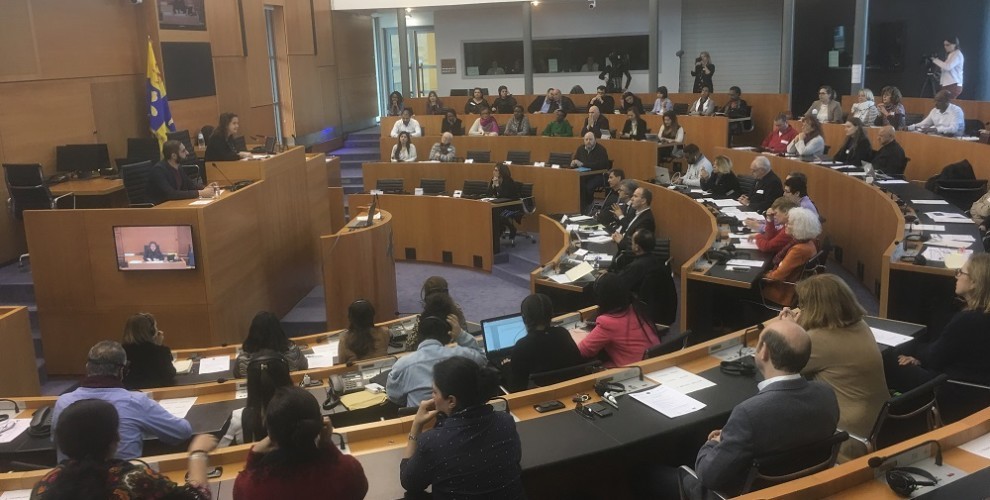 The French speaking Parliament of Brussels in partnership with the Belgian Collective for the Prevention of the Crimes of Genocide and Against Negationism, Women for Justice, the Jewish Secular Community Center David Susskind (CCLJ) and AGBU Europe organized a conference dedicated to Yazidi women.
Founded in 2015, the collective includes Armenian, Assyrian and Tutsi organizations.
In particular, genocide testimonies were delivered and had a huge impact on the conference, which addressed the genocides of Yazidi, Assyrian, Armenian, Jewish and Tutsi, and the traumas and struggle for justice that followed these genocides.
The opening speech was made by the President of Parliament Julie De Groote.
De Groote underlined that despite the lessons learned from history, tragedies such these keep repeating themselves. De Groote underlined how "the community reacted with indifference to the Yazidi genocide, which affected especially women."
De Groote, who thanked the women who came to offer their testimony, said: "You are at home here."
Presentations on Yazidi history and recent genocide attacks were delivered by historian Vicken Cheterian from the University of Geneva, founder and president of Yahad in Unum, Patrick Desbois, Walloon-Brussels Federation's Belen Sanchez.
Cheterian: History of Yazidis a special experience
Professor and historian Cheterian said: "The history of the Yazidi people tells us of a special experience. Tells us the history of the Middle East."
He explained that "DAESH attacks on Shengal on 3 August 2014 were not connected with a conflict of power. The area the Yazidis live in is dry and there is no oil. The attack of DAESH on Shengal cannot be explained with an analytical, military, political and strategic logic. […] I looked at their newspaper, to see how they explained. They say that the Yazidis are of pagan faith and asked how Muslims allow it for hundreds of years. Here they confess their crimes."
Indicating that the collective identity of a people wanted to be destroyed, Cheterian said: "They wanted to massacre the Yazidis for being Yazidi."
Reminding that the attack against the Yazidis began to rise during the period of Sultan Abdulhamit, Cheterian said that during the same period also began the attacks on the Armenians and Assyrians.
Cheterian stated that indeed the Yazidis have been subjected to massacres throughout history, but it was a genocide that was carried out by DAESH.
Cheterian added that DAESH is not made up only of foreign fighters but also of Yazidis' neighbours, the Arabs and therefore there is an urgency to get out of the logic of hatred and there is for this a need for international solidarity.
Hundreds of women sold as slaves
John Desbois, the founder and president of Yahad in Unum, started his speech by saying that they filmed over 300 women sold by DAESH, and provided information on the strategies followed during the aggression.
He spoke about how men and women were separated from each other and explained how DAESH physicians examined women and girls, 'labelled' them, how women were sold and how men were executed by shooting.
Desbois stated that they followed 300 Yazidi children who were assimilated by DAESH and how they would not even know who they were in DAESH camps.
Desbois also gave examples of women who were sold several times and described this as a tragedy.
Desbois pointed out that it was not just a matter of describing the genocide. And therefore he showed a video showing the massacres carried out by DAESH, forced Islamization activities, tortures, executions, and the atrocities committed on children, women and adults.
Desbois ended his speech by saying that "today, what are we going to do is important", because today Yazidi people are still being sold to groups like al-Nusra. Desbois condemned the fact that today little or nothing is done and yet "the genocide is not over."
The Yazidi tragedy in photos
Belen Sanchez from the pedagogical group Democracy or Barbarism in the Walloon-Brussels Federation said that they had made a photographic work on the situation of Yazidis and that they learned the tragedy and cultures they lived.
"This people are still suffering," said Sanchez.
Some 15 photos were exhibited at the entrance of the conference hall. "We wanted to give these women who experienced hell the chance to speak out."
All humanity is targeted when women are targeted
Sanchez said: "When women are being murdered all humanity is being targeted" and added that rape used as a war weapon was part of the genocide.
The story of the witnesses
In the second section of the conference, two Yazidi women told of the atrocities they experienced. Witnesses did not want their face to be seen because of their grievances. The first witness, who said that his name was Necla, said that she was from the village of Kocho in Shengal.
In 2014, when DAESH mercenaries attacked Kocho, Necla stated that she was in the village with her family. "They gathered us in the village school, and separated women and girls from men. They executed men. They took women and girls away. The same evening, 100 girls from the village were sold. Women and girls were separated, girls were sold. I was taken to Mosul."
Necla, who told about the rape of women and girls who were detained, continued: "They called us gifts. They saw us as nothing because we were not Muslims. I was sold from Mosul to Tal Afar. Then they resold me for 4 or 7 dollars. In the beginning they were selling us for a few dollars. They would force girls to become Muslims. We said we will learn the Koran if they stopped raping us. I was in the hands of DAESH for seven months. There were children who forgot their mother tongue. There were children who didn't know their father. Because their father was killed."
Necla said she saw 50 beheaded women. "Women were killed, what kind of people is this who kill women 60-70 years old?"
Reminding the audience that there are still many women in the hands of DAESH mercenaries, Necla said: "We want those girls and children to be rescued from their hands."
There was nothing they did not do to us
The second witness introduced herself as Marwa and said she came from a village near Kocho. Marwa told that she was taken to Raqqa after she was abducted and on the third day there, she was sold to Egyptian man along with her sister and a Lebanese woman.
Marwa said: "He threatened that we would be resold if we didn't obey him. When we didn't, he beat us, tied our hands and raped us."
Marwa said that they were eventually sold to other people and that there was nothing these people didn't do to them, torture and rape being constant punishment.
Marwa was then sold to a 70-year-old man from Yemen, and again was beaten and raped.
She told that she finally managed to escape and reach a camp. "Life at the camp was terrible", Marwa said.
In Syria, said Marwa, they beheaded at least 50 women. "How long will we live in these conditions?" she asked.
"I don't understand why the international community doesn't take the necessary measures."
One of Marwa's sisters ended up in Canada, another is in Iraq and Marwa is in Europe.
Abducted and missing Yazidis
Leyla Ferman, the director of the Women for Justice association, started her speech by stating that around 150,000 Yazidis live in Shengal today.
Initially, 6,417 people were taken captive: 3,548 were women.
Of these those who returned were 1.159 women, 337 men, 962 girls, 879 boys. According to the figures provided by Ferman, 3,833 people, including 1,427 women, are still missing.
Women were always the first victims of the genocide, said Ferman.
Ferman stated that they gathered more than 100 witnesses, most of them women, and said that they are demanding justice, and will take any available legal action.
Mujawayo: We cannot sleep peacefully
Esther Mujawayo, a survivor of the genocide in Rwanda, stressed the importance of solidarity with victims.
She referred to the Yazidi women's testimonies and said: "They are not sleeping peacefully and neither should we."
Telling about the genocide in Rwanda in 1994, Mujawayo reminded what the Tutsi suffered and drew attention to similarities.
"My husband, my family, my aunts, my cousins ​​were killed. They were all killed, brutally. Then you live in a big void. Those who killed us were our neighbors, we want to the same school, they were our priests, our teachers. We saw women who were killed with their children. You can't trust anyone anymore, but you can't live without trusting anyone. We were in complete emptiness. Everything was destroyed, looted."
Invisible wounds
Mujawayo recalled that the international community did not intervene when the Tutsi genocide took place and added: "You can't trust. Sometimes physical injuries can be treated, but invisible wounds are very difficult to heal".
Mujawayo told about the traumas experienced by children after the genocide and said: "Yazidi have these same wounds. Yes, genocide is not over, the survivors are still living it."
Yalçındağ: We are not talking about genocide
Lawyer Reyhan Yalçındağ Baydemir of Women for Justice said that the "Yazidis were the first target and they had been massacred 73 times throughout history."
Yalcındağ criticized that no international court has been established for the prosecution of DAESH and its collaborators. "We are not talking about any crime here, - she said - we are talking about genocide."
UN should establish a special tribunal
Yalçındağ called on the UN to establish a special tribunal to judge DAESH crimes. At the same time she added that "loss of evidence is a risk. We have to move fast. Yazidi women should be taken to a safe place, medical analysis should be done, mass graves should be examined."
Yalçındağ stated that if the special tribunal was not established, the crimes would remain unpunished and added: "This human shame should face a legal procedure. Otherwise this shame will fall upon all of us. All we want is to bring DAESH to justice."
Jakhian: Your words give everybody new hope
Member of the collective, Grégoire Jakhian, decided to not read the text he had prepared and said that the statements and testimonies at the conference had a very strong impact. Jakhian asked: "How can we live as witnesses to the genocide?"
He added that "your words are more than a testimony. It is the victory against DAESH and their black flag. Your words give everybody new hope."