Temelli: The Kurdish people and the HDP best understood Öcalan
Evaluating the mayoral elections held in Istanbul, HDP co-chair Sezai Temelli said that the third way means a new policy not just a new constitution.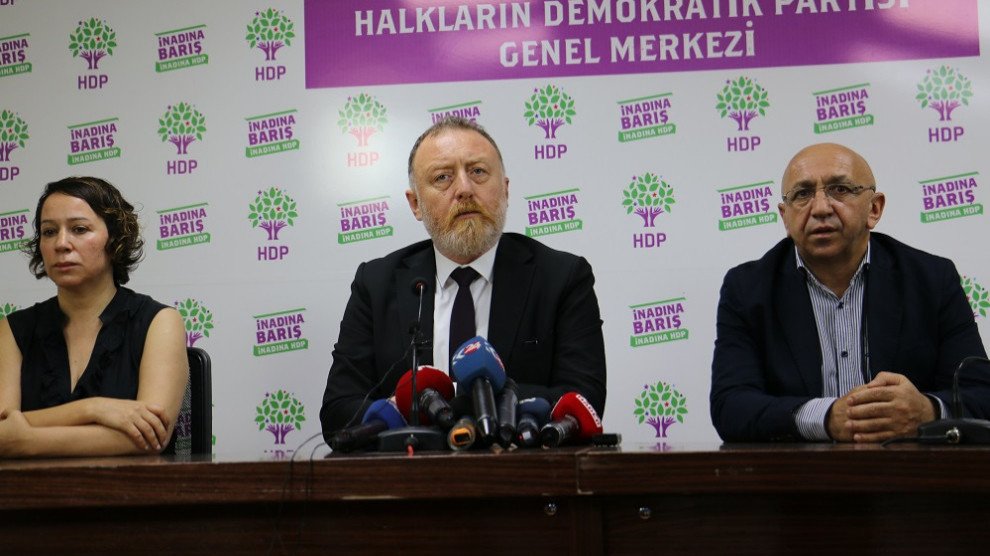 HDP co-chair Sezai Temelli held a press conference at the headquarters of his party after the announcement of the Istanbul election results.
"We have left the Istanbul elections behind. It was an election we arrived to with very long discussions. In fact, after the March 31 elections, unfortunately the election process could not be completed. The biggest victim of this was HDP." 
Temelli said that a democratic basis could be achieved with the June 23 elections. "I would like to thank the 16 million voters in Istanbul who participated in these elections. I would like to thank HDP provincial-district organizations and HDP voters. I would like to thank the Kurdish people once again. They once again had an important attitude and initiative."
Temelli added: "I congratulate Mr. Ekrem İmamoğlu, the winner of the election. I hope that the will reflected by our people, peoples, women and laborers with their votes will contribute to the democratic management of the city in the future.
Turkey needs to democracy, it needs local democracy. Our greatest desire is strengthening the understanding of democracy and the participation of the people at local level."
Turkey, said Temelli, "has left behind an important threshold in terms of politics. It's time to look ahead. It is time to look on 24 June and beyond. Turkey urgently needs to get into the lane of democracy and peace. This is the responsibility of all politics now. This should be the most important result of the Istanbul elections."
Temelli said: "The elections were preceded by discussions over Mr. Öcalan's letter. And we saw that that letter, together with the previous ones, actually put a finger on a very important problem in Turkey once again. Just as in 2013, this letter said that Turkey needs a democratic constitution and needs reconciliation. The constitution must be done now. I'm addressing the Parliament: let's write our constitution. All parties should start a process of writing a constitution without viewing differences with a discriminatory approach. It is time to save the country from the destruction created by this polarized politics. Social peace has been severely destroyed. Turkey needs to see social peace rebuilt."
Temelli said that as to the question "What kind of message did the Kurdish voters give?" the answers is: "We have never been in any bargaining so far. The Kurdish people and the HDP people are those who understand Mr. Öcalan's letter best. The most important issue emphasized there was the question of democratic constitution and social reconciliation. Reducing Mr. Öcalan's statements to an opinion on an election means not understanding Mr. Öcalan."