670 bodies recovered from the largest mass grave in Raqqa
From the mass grave discovered in January in a suburb of the northern Syrian city of Raqqa, the remains of another 670 ISIS victims have been recovered. The bodies of some missing foreigners are suspected to be in the mass grave.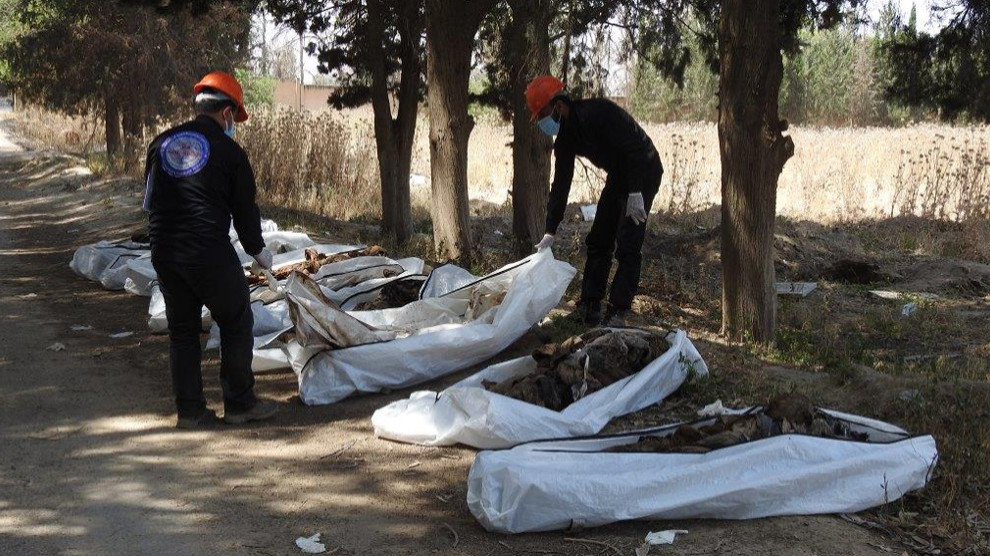 In the northern Syrian city of Raqqa, exhumation operations continue on the largest mass grave ever discovered in northern Syria. Raqqa Civil Council Reconstruction Committee units have exhumed 670 more bodies from the grave of victims of the Islamic State terror militia in recent weeks. Since the discovery of the mass grave in al-Fukheikha, an agricultural suburb of the city began on January 9, the remains of some 800 people have been recovered.
As Yasir Xemis, the excavation team leader, told the ANHA (Hawarnews) news agency in Rojava, exhumation work on a section of the mass grave is scheduled to be completed in the next few days. "Then we will turn to the area where we suspect, among other things, the remains of foreign journalists abducted and killed by ISIS to be," Xemis said.
International experts assume that the bodies of US journalist James Foley, US human rights activist Kayla Mueller and Jordanian pilot Maas al-Kassasbeh are buried in al-Fukheikha. Members of the reconstruction committee had spoken of eyewitness accounts in February, according to which people in orange suits were repeatedly seen in this area during the ISIS rule in Raqqa, referring to the garb in which ISIS would typically dress its executed captives.
RELATED NEWS: