Emotional ceremony held in Dêrik for six martyrs
Six martyrs of the Resistance of Honor were accompanied to their last journey with a magnificent ceremony in Dêrik.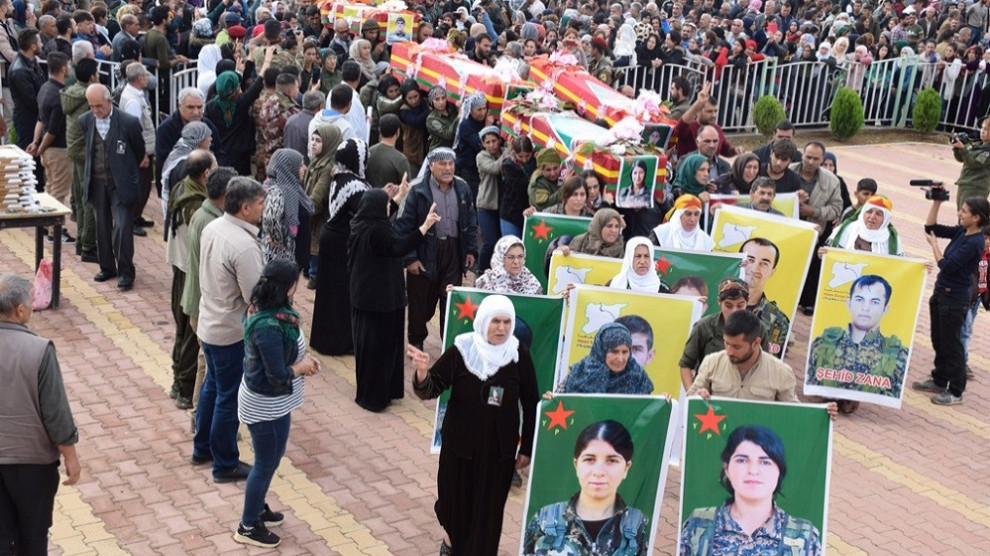 Six fighters who fell martyrs during the Resistance of Honor against the Turkish state and their mercenaries were bid farewell in Dêrik.
The six fighters were Hacî Kortiş (Zana Amed), Zûbêr Bokar (Mehrem Ferhad), Şiyar Lewend (Şervan Gabar), Merizyar Mîran (Deniz), Rojîn Ebdilqadir (Mêdiya Şoreşger) and Fatime Dalman (Nohal). A crowded and emotional ceremony was held for the six fighters in Dêrik.
Thousands attended the ceremony held at Martyr Xebat graveyard.
Speaking at the ceremony, which started with a minute's silence, Kongreya Star member Asya Abdullah said: "The constitutional committee does not reflect the will of the peoples of North and East Syria." 
Abdullah added: "It is impossible for the constitutional committee to come up with a solution because the Turkish state is carrying out attacks against Syria. All peoples living in northern and eastern Syria should widen the struggle against the Turkish state and its mercenaries and should stand united around the SDF."