'Freedom for Öcalan' vigil launched in Heseke
The global campaign for the freedom of Öcalan and a political solution to the Kurdish question is supported by the people of Heseke in northern Syria.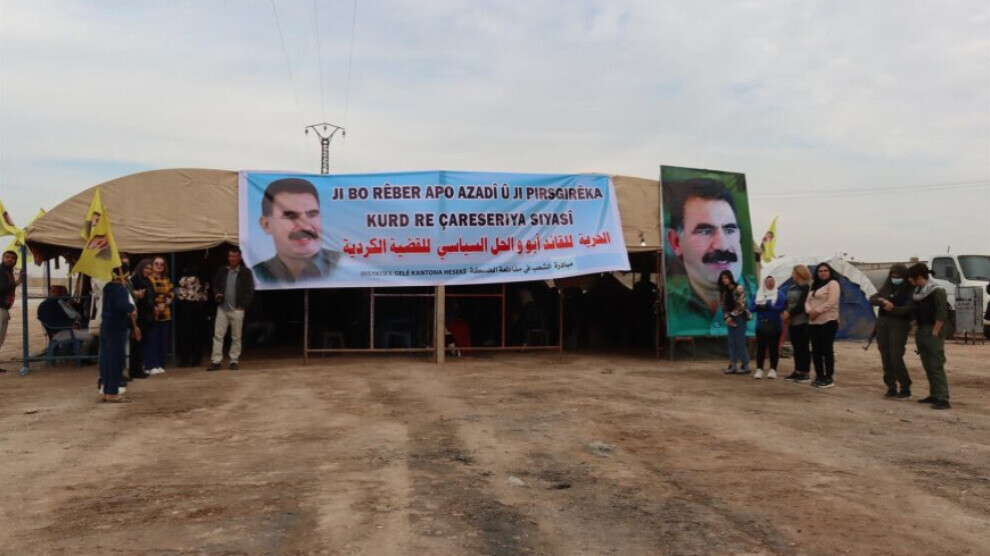 The People's Initiative in Heseke launched a vigil in solidarity with the international campaign "Freedom for Öcalan and a political solution to the Kurdish question". The campaign, which was launched simultaneously in over a hundred places all around the world on 10 October, unites social movements, political parties, municipalities, trade unions, activists, intellectuals and millions of Kurds and people in solidarity with the Kurdish liberation struggle worldwide around a common goal: the participation of Abdullah Öcalan in a dialogue for a just and democratic political solution to the Kurdistan question in Turkey, which has remained unresolved for more than a century.
The vigil started with a press statement which denounced the Turkish state's unlawful treatment of Abdullah Öcalan as an act against international law and called for an end to the isolation imposed on the Kurdish leader, who seeks democracy and liberation of oppressed peoples.
Speaking on behalf of the women's movement, Rîma Mehmûd vowed to continue their actions to demand the physical freedom of Abdullah Öcalan and not to give up building the project of democratic modernity presented by the Kurdish leader.
Ebdulxenî Oso, a member of the Democratic Union Party (PYD) General Assembly, stated that the freedom of Abdullah Öcalan is a key to a solution to the problems in the Middle East. Oso called on all international powers to support their struggle.
The speeches were followed by a screening about Abdullah Öcalan's struggle of honour based on the Revolutionary People's War strategy.