Nattoreh: No attack will go unanswered
Founded in 2011, Nattoreh ensures the safety of the population in the town of Til Temir in northern Syria, which has been under attack by the Turkish state. They have members from all Christian denominations and defend the region against the occupying for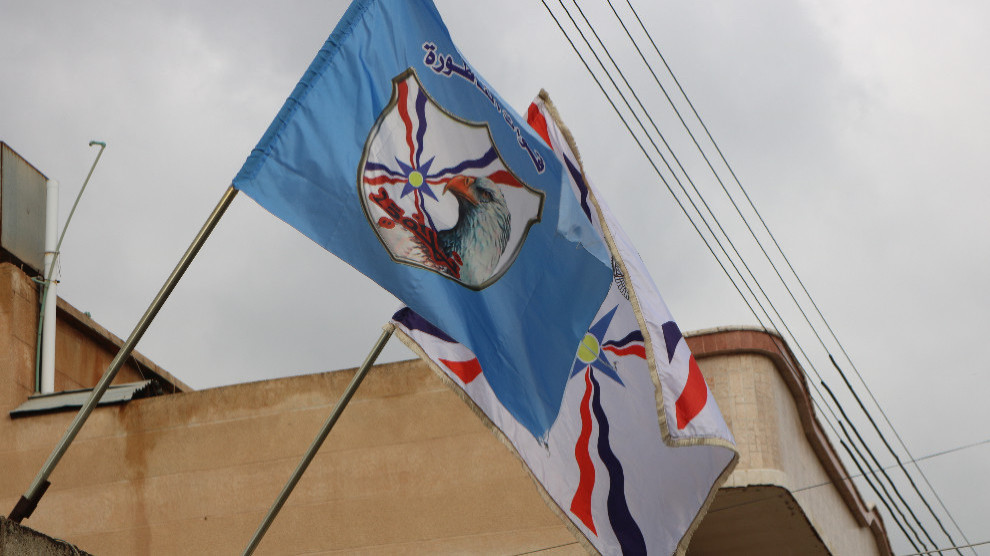 The Nattoreh forces ensure the safety of the population in Til Temir, a town continuously attacked by the Turkish state. They were founded in 2011 by Assyrian people, have members from all Christian denominations and were already involved in the fight against the "Islamic State" (ISIS) in Deir ez-Zor, Raqqa, Tabqa and Manbij.
Ninus Khalil Werda has been with the Nattoreh for five years and has participated in the liberation offensives against the ISIS in Raqqa, Deir ez-Zor, Manbij, Shaddadi, Hol and Gentari, an area between Hesekê and Ain Issa. He points out that the ISIS is taking action together with Turkey: "The jihadists against whom we fought earlier are now attacking the region together with the Turkish state. Many people have fallen to free this region from the ISIS. We will continue our resistance under all circumstances."
"No attack will go unanswered"
As Ninus Khalil Werda explains, the Nattoreh, the Syriac Military Council and the Khabur Guards are stationed in the region between Til Temir and Serêkaniyê (Ras al-Ain). "No attack by the Turkish state and its gangs on the region will remain unanswered. The Turkish state claims that it wants to free the region from terrorists, but it and its FSA gangs are terrorists themselves. We will defend our country at all costs against the occupying forces."
Occupation will be confronted under all circumstances
Hanan Khushaba, who is also a member of Nattoreh, notes that Nattoreh are not only present within Til Temir, but are also patrolling the surrounding area in consultation with Asayish security forces. According to Hanan Kushaba, the Nattoreh are concerned with protecting their own soil against the Turkish and Jihadist occupiers. As an Assyrian, she is proud of this, she says.
Hanan Khushaba points out that the invasion troops make no difference in their attacks. Not only armed forces, but also children and women are targeted. "Anyone who lives in this area gets killed as a terrorist. This occupation attack, which is directed against the peoples of Northern and Eastern Syria, is an international conspiracy. The international forces are partners in the Turkish occupation. Although the attacks of the Turkish state have been going on for more than two months, the international powers keep their silence and do not adopt a stance", says the Assyrian fighter. She vows to keep their resistance going in order to prevent the occupation at all costs.
RELATED NEWS: