People of Kobane rally for Afrin
A day before the fifth anniversary of the ISIS attack on Kobanê, a protest against the continuing occupation of Afrin took place in the northern Syrian canton capital.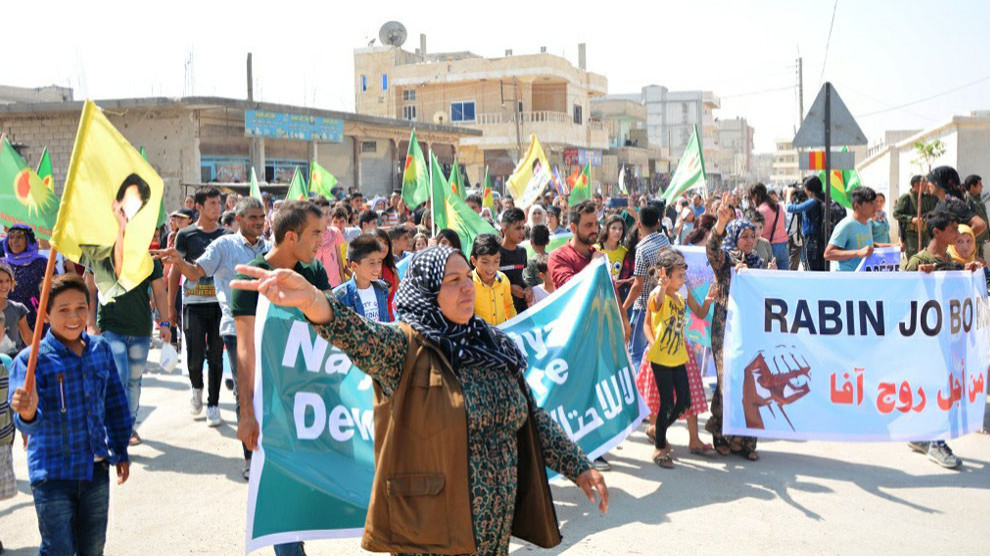 A demonstration against the continuing occupation of the Afrin Canton took place In the northern Syrian canton capital Kobane on Sunday. The protest was directed in particular against the aggressive policy of Turkey in the regions occupied by Turkish troops and ally jihadist militias.
Demonstrators denounced the efforts to transform Afrin into a Turkish province through the change of the demographic and political makeup.
Since the beginning of the occupation war against the multiethnic canton in January 2018 and the invasion two months later, thousands of members of the jihadist militia, who are allies of Ankara over northern Syria, have settled in Afrin. Only from Idlib more than 160.000 persons were brought into the canton, while the traditional Kurdish population was expelled from their homeland because of the systematic war crimes.
Targeted demographic change was also highlighted by demonstrators in Kobanê today. The protest began at noon with a rally that kicked off from the Free Woman's Square with the participation of hundreds of people who carried banners and chanted slogans against the Turkish state's policies and invasion, and called to "rise up for Rojava".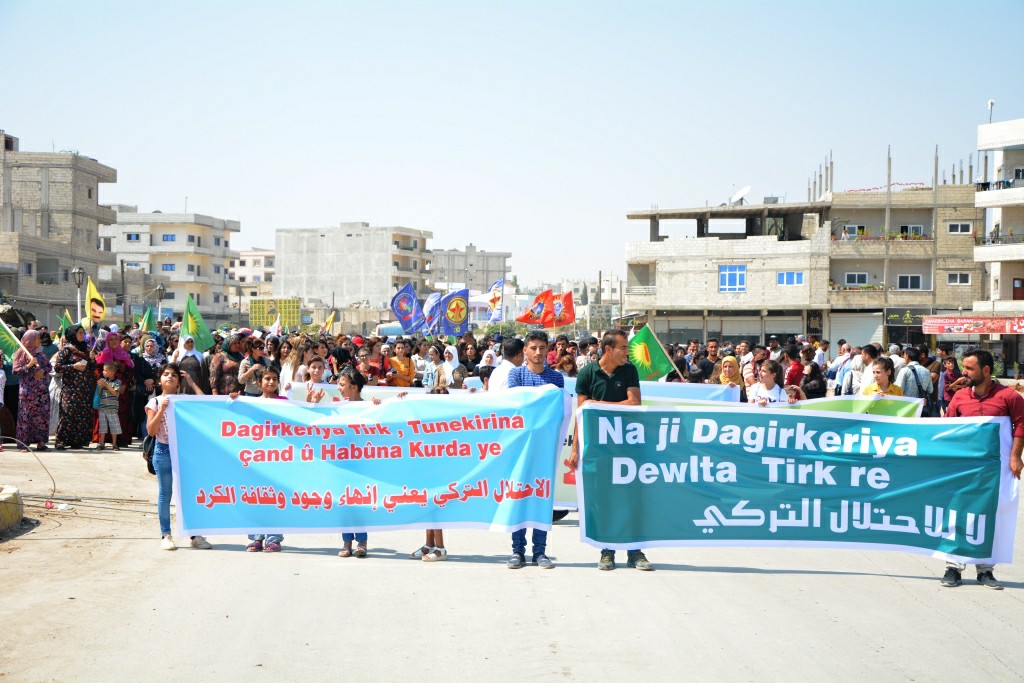 The march was followed by a rally at the Şehid (Martyr) Egid Square where Mihemed Şahîn spoke as deputy co-chairman of the Executive Council of the Euphrates region.
Şahîn said: "On the fifth anniversary of the beginning of the ISIS attack on Kobane, resistance and liberation struggle are still continuing. Our region could be cleared of terror thanks to the youth. Now we have to deal with the terror of the Turkish state, which wants to displace the people of northern and eastern Syria and wipe out the Kurdish culture by changing the demographic structure of the region. We are resolutely opposed to this Turkification policy, as implemented in Afrin, and reiterate that our resistance will continue until the occupiers are pushed back."