SDF announces identity of two fighters killed in clashes with ISIS mercenaries in Hol Camp
The SDF Press Center announced the identity information of two fighters who fell as martyrs in clashes with ISIS mercenaries in Hol Camp.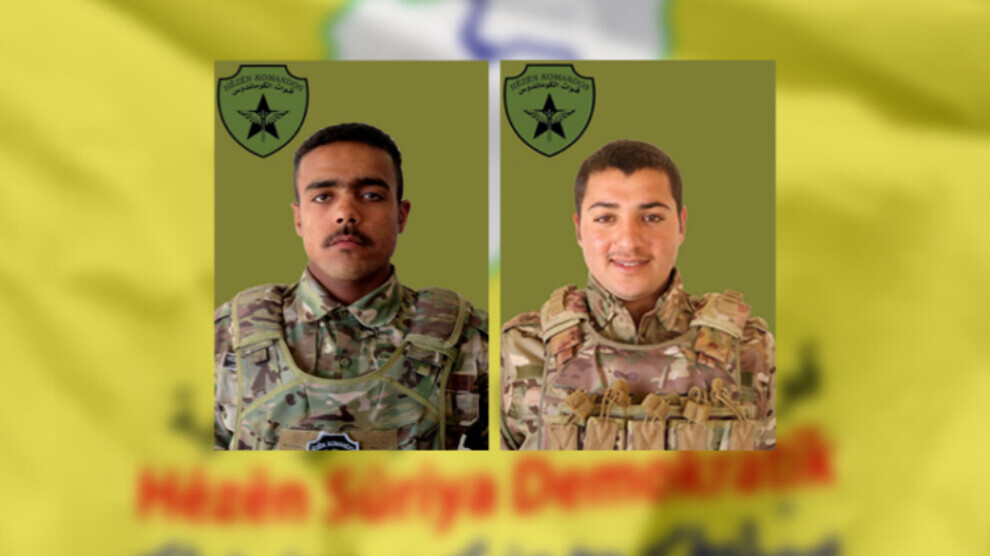 In a written statement, the Syrian Democratic Forces (SDF) Press Center said that two fighters fell as martyrs on 8 September.
The statement read: "Our forces continue to fight uninterruptedly against the secret cells of the ISIS terrorist organization in Northern and Eastern Syria, while writing legendary pages by responding to the attacks carried out by the invading Turkish state and its mercenaries.
Our forces played a major role in the second phase of the Humanitarian and Security Campaign, which was launched on 25 August to ensure the security of Hol Camp and destroy ISIS cells."
The statement added: "On Thursday night, our forces, along with the Internal Security Forces, surrounded a group of terrorists as they tried to escape from the camp. Clashes broke out after the terrorists opened fire. While one terrorist was killed in the conflict, 6 terrorists were caught."
The statement continued: "Our fighters Raxib Samir Berxeş (Cesûr Xebat) and Ehmed Ebas El Mitêran (Udey Cinêdiye) fell as martyrs in the clashes with the terrorists.
Martyr Cesur Xebat fought on many fronts against the ISIS terrorist organization and the invading Turkish state, and did not hesitate for a moment to fulfil his duty.
Martyr Udey Cinêdiye also resisted on all fronts and always gave morale and hope to his friends.
We express our condolences to the families of the 2 martyrs and to all our people, and reiterate our promise to avenge our martyrs."
In the statement, the identities of the two fighters were given as follows:
Codename: Brave Xebat
Name and surname: Raib Samir Berxeş
Mother's name: Asya
Father's name: Semir
Date and place of birth: Dêrazor-1999
Martyrdom date and place: 8 September 2022 Hol Camp
**
Name and surname: Ehmed Ebas Mitêran
Mother's name: Enud Dendel
Father's name: Ebas
Date and place of birth: Qamishlo-1997
Martyrdom date and place: 8 September 2022 Hol Camp