TEV-DEM Congress decision for 'historic struggle'
"We will struggle with autonomous administrations for the construction of Syria on the basis of democratic nation philosophy for the achievement a democratic solution of the Kurdish question."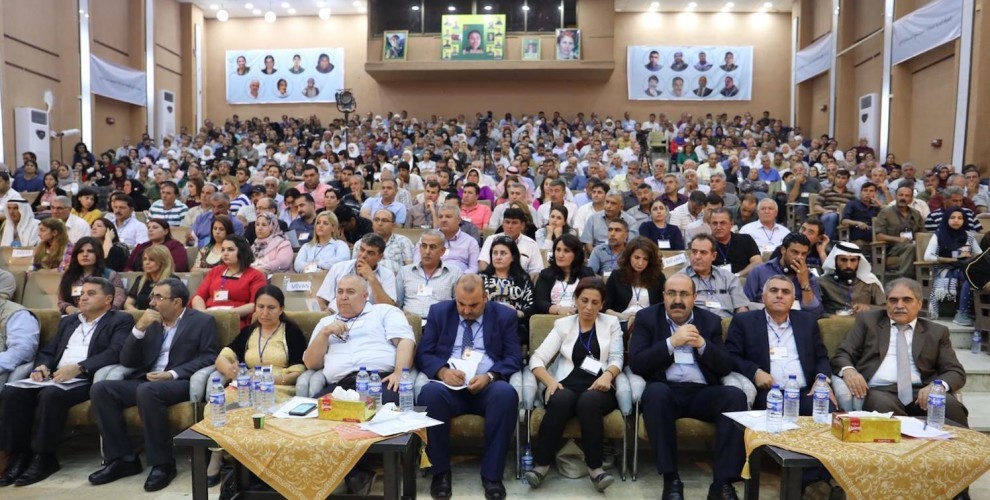 The third congress of the Democratic Society Movement (TEV-DEM) continues in Rimelan town of Qamishlo with the motto "We will secure victory through organized and free society".
The congress is attended by representatives of political parties and çivil society organizations and 500 delegates in Northern Syria, including Cizire Canton Co-president Hemîdî Deham El-Hadî, Cizire Canton Executive Council Co-president Abdülkerim Sarûxan, Syrian Future Party Leader İbrahim Qeftan, PYD (Democratic Union Party) Co-chair Şahoz Hesen, Tabqa Civil Council delegation, Raqqa Civil Council delegation, Northern Syria Federation Constituent Assembly Co-chair Mensûr El-Sellûm, MSD (Syrian Democratic Council) Co-chair Emine Umer, Kongreya Star delegation, Kobanê Canton Executive Council Co-president Anwar Muslim, Democratic Autonomous Administration Representative for Russia Rodi Osman and MSD Executive Council Co-president Ilham Ehmed.
Speaking on behalf of TEV-DEM Executive Council Co-presidency, Aldar Xelil pointed out that there have been majör changes in the region - mainly in Kurdistan and Syria- and world politics since the second congress of TEV-DEM which was held on December 16, 2011.
Xelil said; "Our movement has been a firm answer to these changes which it influenced and was influenced by. Consequently, the course we have taken since the beginning of these changes in the region and Syria, has succeeded in every aspect."
"AFRIN WILL BE FREED"
Xelil stated that their goal was to ensure women's freedom and build a moral and political society. Touching upon the Turkish occupation of Afrin, he said; "We state our people and all the democratic forces in the region and the world that we will eventually free Afrin."
Xelil stressed that TEV-DEM will provide every support to the Syrian Democratic Council (MSD) that embraces all the segments in Syria and has become a grand bloc.
"THERE WILL BE NO SOLUTION WITHOUT THE KURDS"
Remarking that no effort for a solution will succeed unless it involves the Kurds, Xelil indicated the Geneva and Astana talks; "The common ground of these meetings was the exclusion of TEV-DEM and democratic forces in Syria which eventually led to a deepening crisis and division of Syria."
Pointing out that the Kurdish people are an influential force in the balances in Syria, adding; "In the liberated areas, we established relationships with all non-Kurd social segments on the basis of co-existence. We also entered into relations with the people who had to migrate to Europe and abroad because of the displacement policies implemented by the enemies of the Kurdish people."
"TEV-DEM BULIT A BRIDGE BETWEEN THE PEOPLES"
Noting that TEV-DEM's works have reached a new phase, Xelil continued; "TEV-DEM especially laid the foundations for the construction of a political and social system through the Democratic Autonomous Administration."
Xelil remarked that TEV-DEM has been able to build a bridge between the peoples of the region and the world and said they will continue their struggle in line with the principles they believe in. He concluded his speech, saying; "We state that a decision for historic struggle for the Kurdish people and Syrian peoples will be made at our congress. We will struggle with autonomous administrations for the construction of Syria on the basis of democratic nation philosophy for the achievement a democratic solution of the Kurdish question."