Urgent call for a 'humanitarian corridor' in Serêkaniyê
Civil society organisations in North and East Syria called for the opening of a 'humanitarian corridor' in Serêkaniyê, stating that the Turkish state has been targeting civilians and medical teams.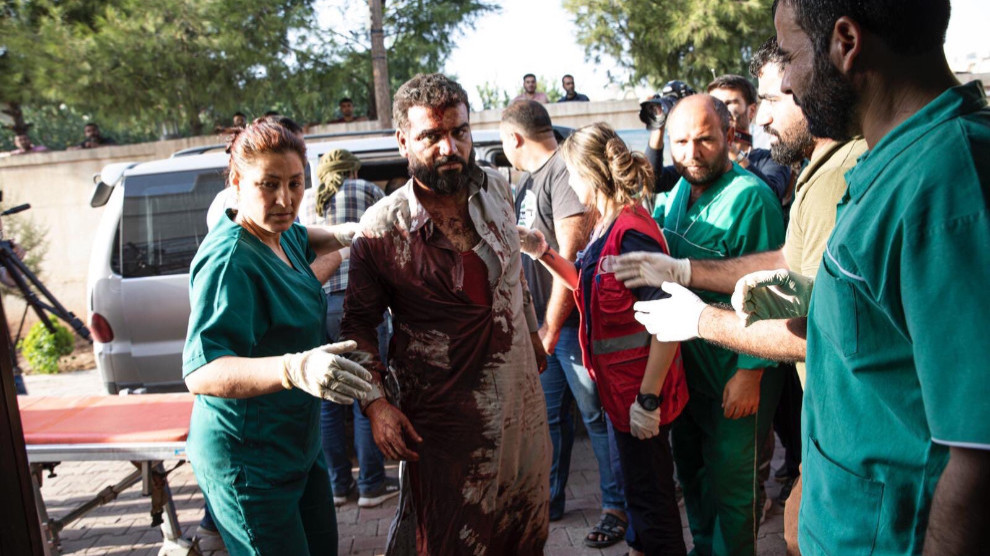 Cizire Region Human Rights Organisation, North and East Syrian Lawyers Union, Cizire Social Justice Council and North and East Syrian Women's Rights Protection and Research Centre released a joint press statement on the Turkish incursion seeking to invade northern Syria.
Urging international human rights organizations to take immediate action to stop Turkey's attacks, the NGOs called for the opening of a humanitarian corridor for the safe evacuation of the injured in Serêkaniyê.
The statement said the following;
"The North and East Syria territory is faced with the Turkish state's violent attacks. The Turkish state forces and allied mercenaries have been using all kinds of heavy weapons in their ground and air attacks. Hundreds of civilians have died and hundreds of others wounded as a result of the attacks which also damaged the infrastructure systems and destroyed living areas.
In the last three days, the occupant Turkish army has formed a circle of aggression to prevent the evacuation of civilians in the region and meeting of the civilians' basic and medical needs. The attacks that also target medical teams put the lives of civilians and the injured at great risk. The occupant Turkish state has been targeting the Serêkaniyê city and surroundings from both air and ground since early this morning. These attacks could result in a humanitarian disaster as the Turkish state forces are committing war crimes and crimes against humanity in violation of international laws.
The Turkish state is responsible for the war crimes committed in North and East Syria. We call upon the United Nations, the Security Council and the Arab League to stop the attacks against North and East Syria and to open a humanitarian corridor in Serêkaniyê fort he safe evacuation of the injured by employing an emergency initiative."