Widespread power cut in Til Temir due to artillery fire
Public electricity supply has failed in large parts of Til Temir in the north-eastern Syrian autonomous zone. The reason is attacks by Turkish jihadist occupation forces on a distribution station.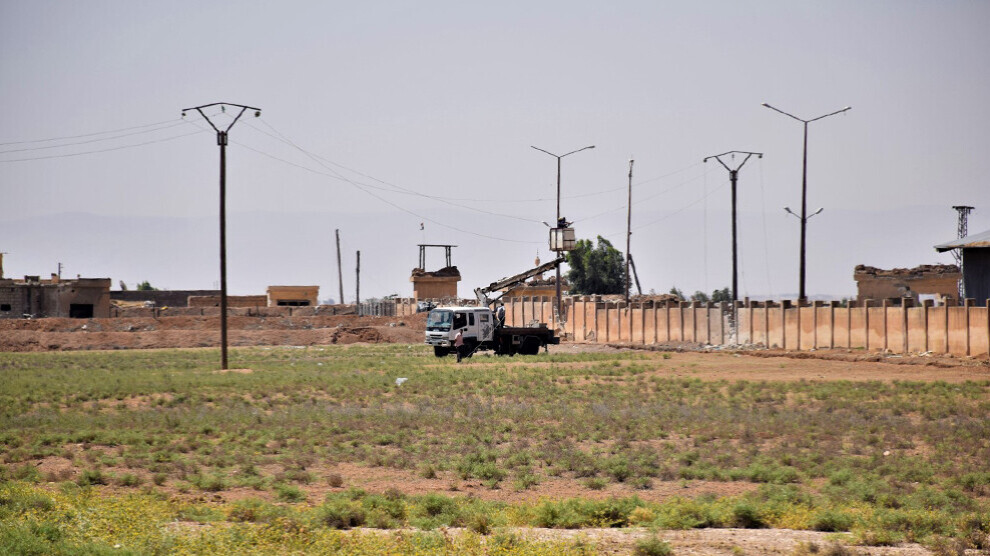 In large parts of Til Temir in the north-eastern Syrian autonomous zone, the public electricity supply failed on Saturday. The blackout was caused by attacks by Turkish jihadist occupation forces on a distribution station in the village of Umm al-Kayf, west of the city. According to the Til Temir Military Council, the shelling began late on Friday evening and continued into the morning hours. As a result, several power lines were damaged by impacts from howitzer shells. The local electricity company said that hundreds of households and businesses were affected by the power outage.
Since the conclusion of the ceasefire and de-escalation agreement, which was agreed between the guarantor powers Russia and the USA with Turkey after the occupation of Serêkaniyê (ar. Ras al-Ain) and Girê Spî (Tal Abyad) in October 2019, Til Temir has effectively been under constant fire from the invading forces. Ankara wants to integrate the Christian-populated town in the Khabur Valley into its illegal occupation zone. The permanent attacks are therefore mainly directed against residential areas and civilian infrastructure; energy and power supply facilities are bombed particularly frequently. The distribution station in Umm al-Kayf alone has been attacked at least 29 times by Turkish jihadist occupiers in the last three years. This is how the civilian population is meant to be worn down.
The staff of the local electricity committee is also a frequent target of attacks. Time and again in the past, technical emergency teams have been targeted by the Turkish army or allied jihadist militias to hinder the repair of damage to equipment or lines. The permanent and targeted attacks on the electricity supply in the autonomous areas severely affect the civilian population and the economy of northern and eastern Syria, causing millions of dollars of damage.
Strategic location of Til Temir
Til Temir occupies a key position in Turkey's occupation plans because the M4 runs through the town with 25,000 inhabitants. The international traffic route is considered the lifeline of northern Syria because it connects the Euphrates and Cizire regions. In order to incorporate it into the occupation zone, the occupying forces are waging a "war of attrition" with the aim of depopulating Til Temir. Drones are increasingly being used in the brutal campaign. On 18 August, a Turkish killer drone attack southeast of Til Temir killed four youths and injured eleven others. The target of the airstrike was a United Nations (UN)-sponsored education centre for girls; a fifth victim succumbed to her serious injuries days later. Earlier, two fighters of the Syriac Military Council (MFS) were killed by Turkish artillery fire in the north of Til Temir.