23 detained in police attack against women for HDP municipalities
Police forces of the Turkish regime continue with their brutal attacks against masses reclaiming the HDP municipalities seized by the AKP.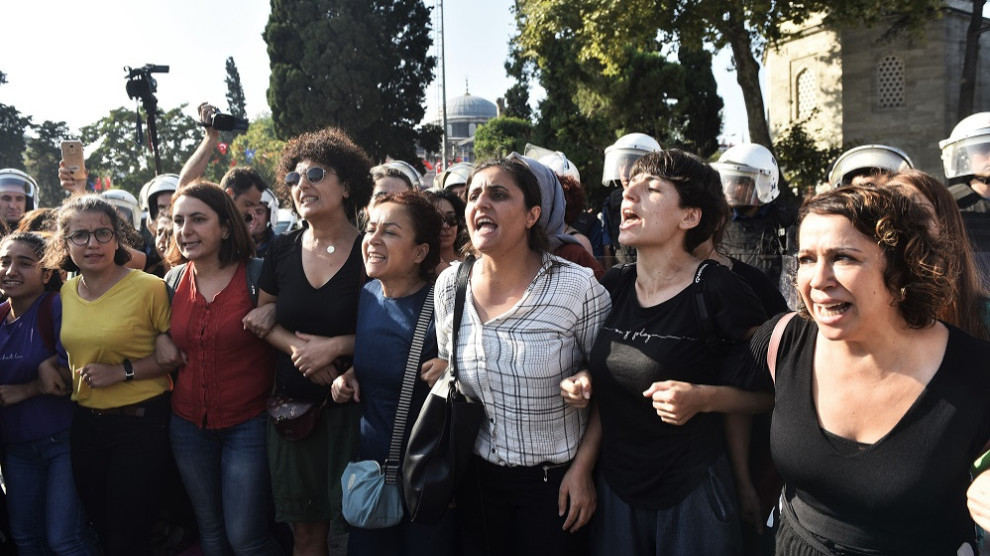 Members of the 'Women Strong Together' Platform promoted a demonstration in Besiktas district of Istanbul to protest against the AKP regime's seizure of HDP-run municipalities in Amed, Mardin and Van. The demonstration was also joined by HDP deputies Dirayet Dilan Taşdemir, Oya Ersoy, Züleyha Gülüm and Serpil Kemalbay.
Police forces of the Turkish regime laid a siege at the scene where the demonstration was set to take place, and prevented women from making a press statement to denounce the illegal seizure of municipalities won by the Peoples' Democratic Party (HDP) in the local elections of March 31.
Protesting the arbitrary obstruction of the police, women staged a march to Barbaros Hayrettin Park where they chanted slogans and opened banners reading "women in solidarity against trustees".
Police attacked the women as they chanted "Jin jiyan azadî" (Woman, Life, Freedom). HDP MPs who wanted to prevent the detention of demonstrators were also battered.
Rubber bullets filled with tear gas were fired into the crowd, causing many women to feel faint.
23 women were taken into custody during the brutal crackdown, including Özgür Gelecek (Free Future) newspaper correspondent Özgür Öztaş.