39 women murdered in Turkey in June
The Platform We Will Stop Women Killings released its June report.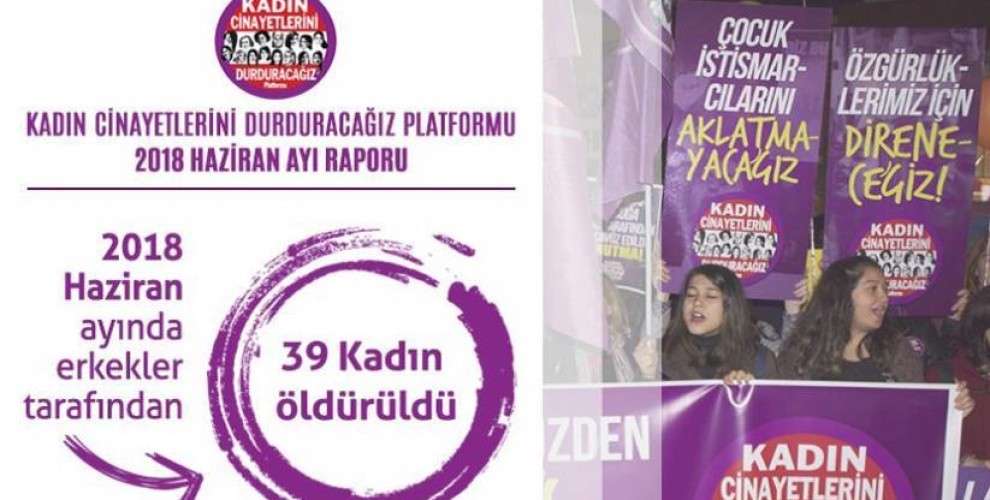 The Platform We Will Stop Women Killings (KCDP) has released its monthly report related to month of June.
The report details the violations of women and children' rights and criticises the authorities as they are not doing all they are required to by Istanbul Convention to combat violence.
39 women killed in June
In June, 39 women were killed in Turkey, says the report, underlining that sexual abuse and sexual violence continue to increase.
"Unless concrete steps are taken against violence, - writes the report - the dimension of violence will include more and more killings. In June, 18 women have been killed by causes not yet established while in 14 murders the killers have not been identified."
Vice President, Bekir Bozdag, has announced that chemical castration would come into force, but women reject these methods as they are contrary to human rights. Indeed women believe that this 'solution' is no solution at all and rather provides an escape to government that should apply existing laws.
The platform emphasized that the law is not applied effectively, concrete policies are not devised and necessary legal steps are not taken.
"The violation of women's rights by the authorities themselves is another dimension of violence", says the report, underlining that 12,000 women in shelters were prevented from voting during the 24 June elections.
Highlights from the June report
* In June, the removal of the Ministry of Family and Social Policy, which does not even include the word 'woman', came into question. Women want a Ministry for Women to be established.
* The results of the 24 June elections showed that the percentage of women deputies in Parliament has risen from 13 to 17 percent. This is one of the important successes for women this month.
* Worker women are staging a resistance action at Flormar for 45 days. There is a social media campaign at #FlormarVeYvesRochereBoykot.
* Sit-in in Istanbul to support Derya Koçak, who was sacked from work accused of 'disobedience'.
* In June, Istanbul Şişli Municipality and DİSK General-İş Trade Union Collective Labor Contract Signing Ceremony was announced as positive step. Paternity leave for men was set at 30 days in the contract, which envisages equal work and working conditions for municipal workers men and women.
Women killings in Istanbul and Antalya
The report underlines that in June there has been an increase in women killings in comparison to May.
In June, 4 women were killed in Istanbul, 4 in Antalya, 3 in Bursa, 3 in Izmir and 3 in Muğla.
In June, 22 women suffered from sexual violence, while 14 women were killed.
Eleven women were killed by their husband, 5 by a relative, 3 by their men of imam marriage, 2 by former husbands, 2 by boyfriends, 1 by her son and 1 by her father.
Child abuse
The report also underlines that in June there have been 24 cases reported of child abuse.
According to the report, 10 children were victim of abuse by people they didn't know, 5 by relatives, 4 by teachers, 1 boss, and 4 acquaintances.