Başaran: Rape is used as a war tool in Kurdistan
Ayşe Acar Başaran, Spokesperson for the HDP Women's Assembly, stated, "Rape is used as a war tool by the government in Kurdistan," and called for stronger resistance.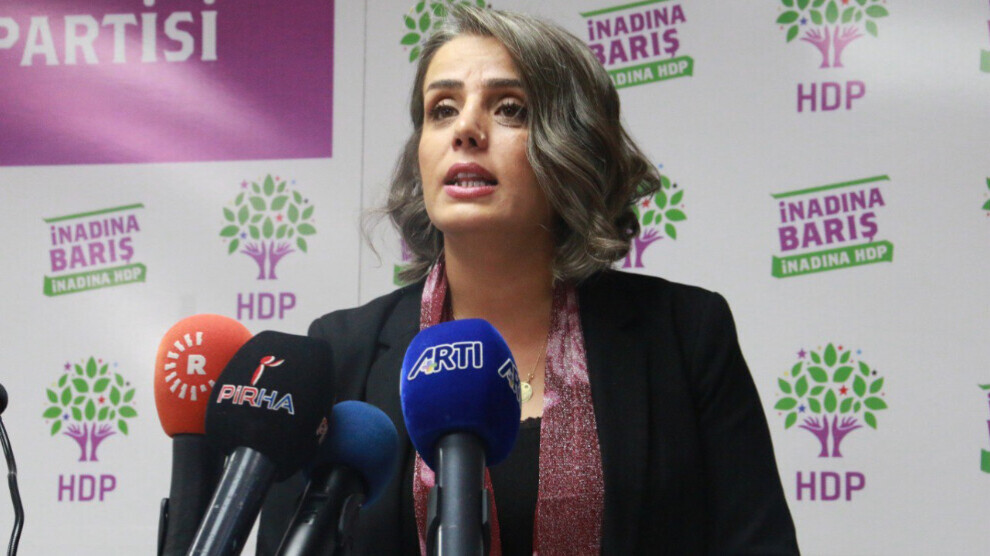 Ayşe Acar Başaran, Spokesperson for the HDP Women's Assembly, held a press conference at the headquarters of the party in Ankara and evaluated the latest developments concerning women.
Başaran began her address by congratulating everyone on World Kobanê Day. "World Kobanê Day was last Monday, November 1. ISIS gangs wanted to topple Kobanê, but women liberated it through great resistance and fight, and today a new life model in Kobanê is attempting to develop itself and all the world's people, and it continues to offer an example to the rest of the world. We salute all Kobanê people, especially the women of Kobanê, with love and respect."
Başaran continued, speaking about the November 4 coup (November 4 marks the anniversary of the arrests of HDP co-chairs, Figen Yüksekdag and Selahattin Demirtas, alongside other parliamentarians in 2016.) She said, "The November 4 Coup went into Turkey's political history as a black mark. Not only was democratic politics taken hostage that day, but it was also construed as an attack on women's struggle and women's achievements."
ILL PRISONERS
Basaran also made the following evaluations:
"Because of the political genocide operations that have been ongoing since November 4, our friends are still being held as hostages in prison. Aysel Tuğluk, who is among the sick detainees, is still being held hostage in prison with a spiteful approach seeking to avenge the June 7 election setback. We salute Kışanak, Figen Yüksekdağ, Sebahat Tuncel, Gülser Yıldırım, Aysel Tuğluk, and all our other friends who are being kept prisoner behind bars.
We voiced our opposition to the November 4 coup at multiple events yesterday. We repeat once more; neither your political genocide trials nor your political coup attempts can sway HDP followers, Kurds, or women. Neither Kurds nor women will bow to you.
FEMICIDE
Turkey's main agenda is violence and femicide. It is obvious that organizations and agencies do not disclose precise statistics to inform the public. According to the statistical information in the press, İn October, 22 women were killed, at least 53 women were subjected to violence, at least two children were killed, at least 49 children were abused, at least 280 women were harassed. No more women should be killed as a result of male violence.
Again, the trial in the case of Pınar Gültekin, who was murdered by Cemal Metin Avcı last year, was held in Muğla last week. Despite the passage of more than a year, the case remains unresolved because the killer, Avcı, sought to profit from "unjust provocation," and Avcı has yet to be sentenced. This judiciary, on the other hand, initiated an investigation against Pınar's mother, Şefika Gültekin, at the speed of a jet, and the same male judiciary does not hesitate to punish women and women's struggles. Again, despite her lack of criminal liability, this judiciary, the judiciary of the government, sentenced 96-year-old Aliye Yavaşsu for "insulting the president." The judiciary demonstrates misogynistic approaches with these judgements regularly.
There is a law in place concerning childbirth. We know what kind of dangers women will face as a result of this regulation. Because there will be "child delivery offices," and no plans have been established to ensure that women are protected when they visit these facilities. Who will protect women during the delivery of the child to the father? Will any actions be taken to safeguard women's rights during the process? Stop drafting legislation based on the wishes of men; women have more pressing needs. If you're going to negotiate plans, develop a plan to protect women!
While these laws are being drafted in the legislature, people who seek to safeguard women become targets of this violence. Haydar Can Kılıçdoğan, 28, was murdered by the perpetrators after attempting to stop the harassing of two girls in Ankara Batıkent. This impunity policy paves the way for many more massacres and horrific crimes. There is no punishment for either the harasser or those who ignore the harassment; people are killed in the streets because they do not turn their backs on violence against women and children as the government does.
'RAPE IS A WAR TOOL IN KURDISTAN'
Another aspect of this violence occurred in Van. Sergeant Talip K. was arrested in Van for sexually abusing two high school students. When the criminal is in uniform, they make every effort to conceal the crime. We know that in Kurdistan there is a particular war policy against women, as evidenced by Musa Orhan, who raped İpek Er in Batman, and the disappearance of Gülistan Doku. The government uses harassment and rape as weapons of war in Kurdistan.
By targeting the bodies of Kurdish women, the state and government implemented practices of intimidation and suppression. We saw this in the case of Musa Orhan. Sergeant Musa Orhan, a rapist sergeant, drove İpek Er to suicide, but he was released after being slapped on the back. The women who opposed Musa Orhan's release became the target. Not Musa Orhan, but women who reacted against the rape began to face criminal charges. While the government ignores the crimes committed by the uniformed people, Emine Şenyaşar, who is fighting for justice, is detained with a serum on her arm. This is all anti-Kurdish and misogynistic!
'KURDISH YOUTH IS WANTED SUPPRESSED'
Our youth assembly started the "Let's Overcome Addiction, Create a New Life" campaign in response to special war policies implemented in Kurdistan. This campaign was developed in Kurdistan to combat both narcotics and forced sexual intercourse, particularly among young women. Throughout the campaign, awareness sessions with youth and society were held through activities held in numerous provinces and districts. Young people are being intimidated through detentions and pressure because they speak out against the government's policies pushed on them, and because they do not accept the government's definition of youth. Young people did not and will not remain silent!
'SPECIAL POLITICS IS IMPLEMENTED IN DERSİM'
We are continuing our meetings as part of the "Against women's poverty" programme. In Dersim, we had meetings last week to discuss 'Women and Ecology.' For a while, one of the world's most famous climate activists declared, 'Our house is on fire.' The seasons are shifting, and glaciers are melting. The world's ecological balance has been turned upside down. While we should cling to even a single tree, the patriarchal forces continue to do it in their own way'. Dersim is one of our cities whose trees were destroyed as a result of these actions. They were looking for someone to blame for the forest fires, so they came across our gathering. We know that a completely different policy is being implemented, particularly in Dersim. Because Dersim is a place that is inextricably linked to its environment and beliefs. With their mining discussions, they are now attempting to ruin the nature of Dersim. During our discussion with women, we addressed how to safeguard our ecology with women who understand nature the best and regard it as an integral part of everyday life. We salute the women of Dersim.
'THE SOLIDARITY OF WOMEN IS STRONGER THAN MEN'
We met with women dismissed through decree-laws once more in Izmir. Following the declaration of a state of emergency in 2016, thousands of people were expelled by decree. Women were once again disproportionately affected by this.
Women were sacked because they exercised their union rights, as well as individual constitutional rights such as being a member of an association. 70% of individuals who applied to the State of Emergency Commission had their applications rejected. These people were subjected to social death as a result of this process. Neither job nor credit was given to the public, nor were their rights restored. During this period, some of those people lost their lives in work accidents or were driven to suicide. More women had to work in precarious and low paid jobs. In order to hinder women from the economic and political fields, they did not only remove them through a decree, they also seized the job opportunities of their families, and their passports were confiscated. But women got up again, organized again, and resisted again. No matter how much you attack women, women will return because our solidarity is much stronger than your patriarchal alliance that you think is invincible!
ECONOMIC DECREASE
Finally, the budget debates in Parliament resume. While Turkey is in a severe economic crisis, almost no home is free of poverty, the people awaken every day to new price hikes, and women are disproportionately affected. The AKP-MHP government, which aims to leave women in poverty and nearly exterminate them, continues to raise the cash allocated to the war while lavishly feeding their supporters. The public funding pledged to be used for the public is nearly zero. 'Use less gas,' say the ministers to the people to avoid heavy bills. To oppose this, we women will present to Parliament the demands that have arisen from the fields, workshops, and factories in order to include the word of women in the budget and make the voice of women heard.
WOMEN'S ASSEMBLY MEETING
On November 10, we will hold our Women's Council meeting. We'll draw the line for the new era together, and we'll make it a commitment. We women continue to interact in all fields in order to create policies that satisfy the expectations of all periods."