Dersim Women's Platform makes statement on the 1000th day without Gülistan Doku
The Dersim Women's Platform made a statement in Jara Gola Çetu regarding the disappearance and lack of news about Gülistan Doku for a thousand days.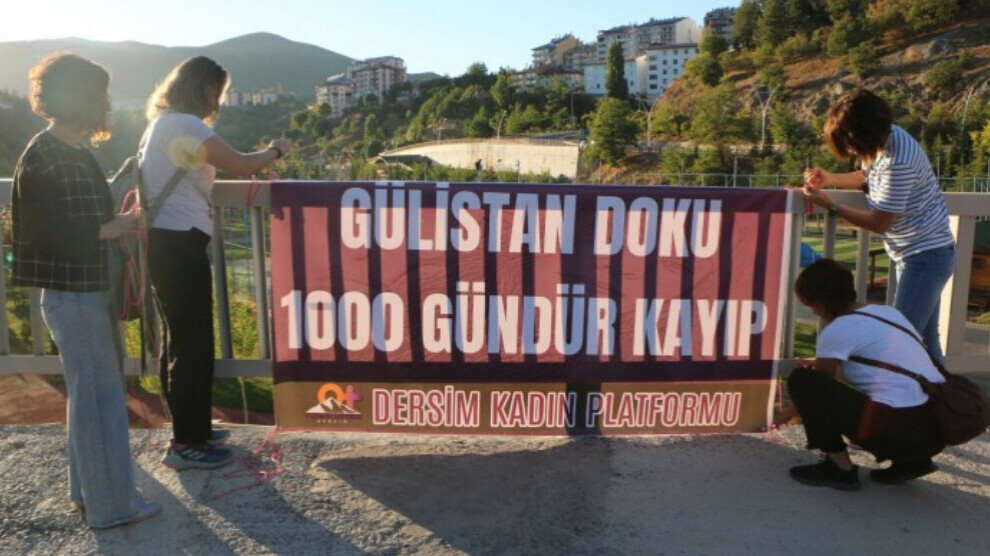 There has been no news from Gülistan Doku (21), a student at Munzur University Vocational School Child Development Department, since 5 January 2020. One thousand days have passed since Doku's disappearance and the Dersim Women's Platform made a statement at Jara Gola Çetu, where Pülümür and Munzur Streams meet. A banner saying "Gülistan Doku has been missing for 1000 days" was unfurled.
Speaking on behalf of the platform, Eylül Yantemur said that no progress has been made in the Doku case. Yantemur said that although the women and the Doku family demanded that the investigation be continued in a multi-faceted manner, the representatives of the official institutions, especially the prosecutor's office, focused on the claims that she had committed "suicide".
Authorities closed the file
Yantemur said that Zaynal Abarakov, the only suspect in the file and the last person Gulistan spoke to, was only asked to testify once. Yantemur emphasized that while no action was taken against the suspects, a lawsuit was filed against Gülistan Doku's older sister, Aygül Doku. Yantemur said: "As a result of all this, the family started a sit-in in front of the courthouse and held a meeting with the governor. The statements of the governor and the prosecutor go in a direction aimed at acquitting the suspects. The Governor even told Gulistan's mother to do whatever she wanted when she said she wouldn't lift her sit-in until truth and justice are done. The authorities ignored this disappearance and in fact closed the case."
Yantemur said that "every sentence said by members of the government has turned into an act of violence against women in our country. The laws have not been implemented effectively for years."
Yantemur reminded that the government turned a deaf ear to the calls for an emergency action plan against male violence and withdrew from the important Istanbul Convention. "As women, we will expand the organized women's struggle against all these policies of annihilation. We had stated that we would follow this case from the first day of Gülistan's disappearance and that we would not give up until she was found. We repeat this promise here. We will not allow you to acquit and protect the responsible of the disappearance. Long live our women's struggle."