Female students expose police harassment and threats in İzmir
Female students in Izmir have made public that they are harassed and threatened by police officers. Their struggle against patriarchal violence is criminalized and attempts are made to recruit them as informants.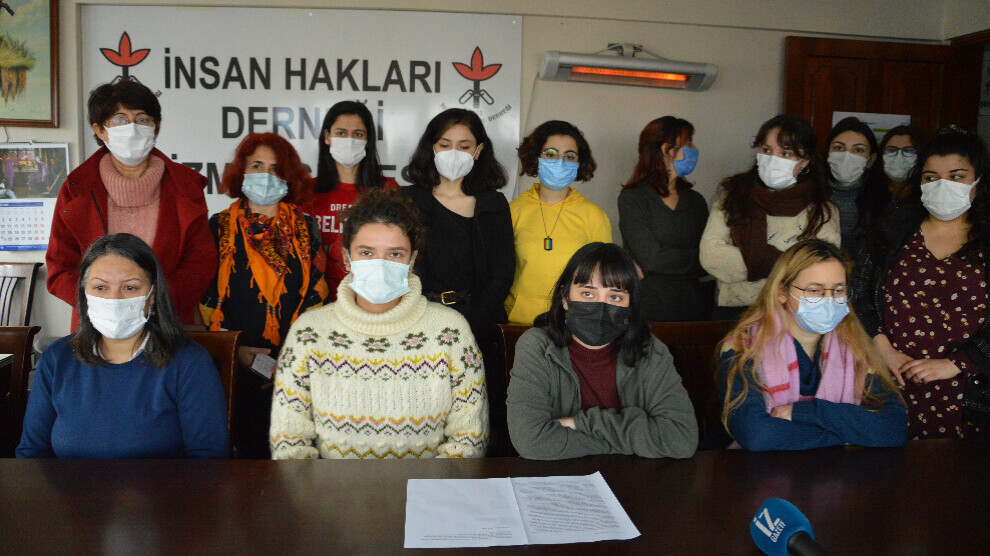 In Izmir, female students are systematically harassed by police officers and asked to be informers. This was made public by the initiative "Women Strong Together" at a press conference at the Human Rights Association (IHD) in Izmir on Wednesday.
One of the students affected is Rozana Urkun. At the press conference, she described how she and her fellow students had been stopped on the street by police officers in recent days: "These people said that they were watching us and that they were not 'fascist police officers of the AKP'. They said they just wanted to sit down with us somewhere and understand our views. Then they made an attempt to recruit us. In the following days, we were called and harassed from official and private numbers. In the phone calls they talked about the anti-terror struggle and said they wanted to meet with us. Our struggle against male violence, poverty and femicide was portrayed as a terrorist act. Our families were also called by these people and photos and videos of us in actions and trials were forwarded."
According to Rozana Urkun, the police even contacted the rector of Bakırçay University in order to discredit the students' political struggle. "One of our comrades was arrested in her flat. After the arrest, the police put pressure on the neighbours and asked them not to give shelter to such persons in the neighbourhood. Her place of work was also contacted and threats were made. Our friend has thus been deprived of her right to work and live," said the student.
Zehra Akbıyik from Women Strong Together said that they will not remain silent about police attacks and will continue to fight against such attacks and repression.