Fidan Doğan commemorated at her grave
"Kurdish women will not step back. We will hold the murderers accountable," said HDP Spokeswoman Ebru Günay in a speech during the commemoration of Fidan Doğan.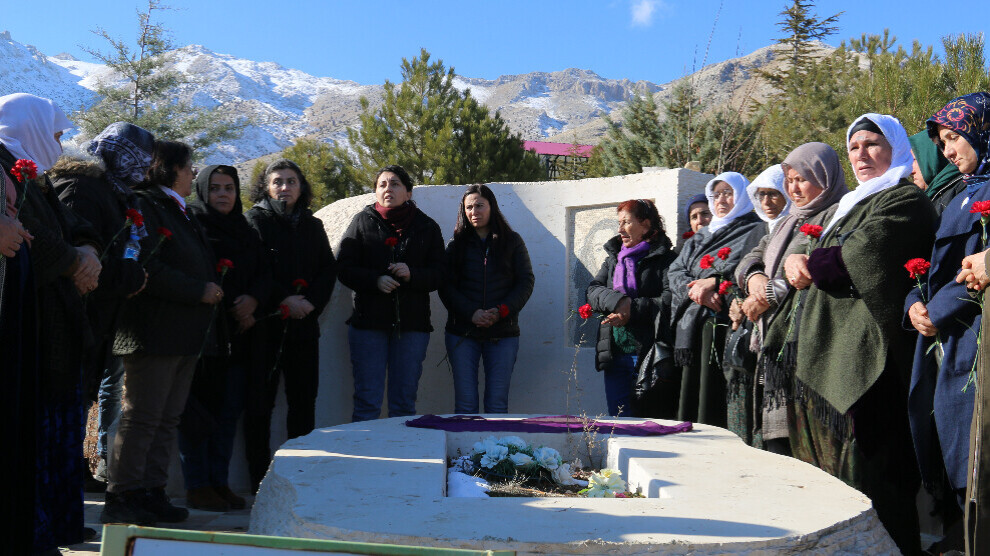 Kurdistan National Congress (KNK) Paris Representative Fidan Doğan (Rojbîn), who was murdered in Paris on 9 January 2013 along with PKK founding member Sakine Cansız (Sara) and Kurdish Youth Movement member Leyla Şaylemez (Ronahî), was commemorated at her grave in the Xopon neighbourhood of the Elbistan district of Maraş province.
HDP (Peoples' Democratic Party) Spokeswoman Ebru Günay, HDP Urfa Deputy Ayşe Sürücü, members of HDP Women's Assembly, Peace Mothers Assembly and the Free Women's Movement (TJA) attended the commemoration on Monday.
'GOVERNMENT FEARS THE STRUGGLE OF KURDISH WOMEN'
Speaking at the commemoration after a moment of silence, HDP Party Spokeswoman Günay noted that light is yet to be shed on the 2013 massacre in Paris: "Each one of our slain comrades was an important representative of the Kurdish women's struggle. We knew already that the government was afraid of the women's struggle, but this fear has turned into deliberate killing of Kurdish women. For years we have known the notorious power behind the shooter. Comrades of Kurdish women know that power very well. Although states claim to have enlightened the murders by capturing the shooters, we know that the real perpetrators have not been brought to account. If we want to prevent further massacres, the forces behind the triggermen must be revealed and held accountable. The real killers have been kept secret. We, women, know the truth and we will continue to hold those responsible to account.
If the triple murder of Kurdish women in Paris had been clarified 10 years ago, the second Paris massacre, which took place 2 weeks ago, would not have happened. If the triple murder had been clarified, we would have seen what kind of a society could have been built under the leadership of women in a very different place. Everyone knows that the Kurdish women were not and will not be afraid of any oppression or massacre."
'WE WILL REMAIN COMMITTED TO THEIR LEGACIES'
Günay continued: "Our commitment to their legacies will be to promote and voice the iconic slogan 'Jin, Jiyan, Azadi' (Woman, Life, Freedom) to the bitter end. I would like to thank our women friends, especially our mothers, who showed their determination to hold those responsible for these murders accountable. I commemorate all the female friends who lost their lives in the women's freedom struggle in the persons of Sakine, Leyla and Fidan. The 'Jin, Jiyan, Azadi' resistance you bequeathed to us will continue."
After the statement, the crowd chanted the slogans "Şehîd namirin" (Martyrs are immortal) and "Jin, Jiyan, Azadi". The commemoration ended after a purple shawl and carnations were left on Doğan's grave.