Golshifteh Farahani: "Jin Jiyan Azadi is a hope"
Lead actress in the Girls of the Sun screened in the 71st Cannes Film Festival Golshifteh Farahani says the Kurdish women fighting ISIS are "The bravest women in the world."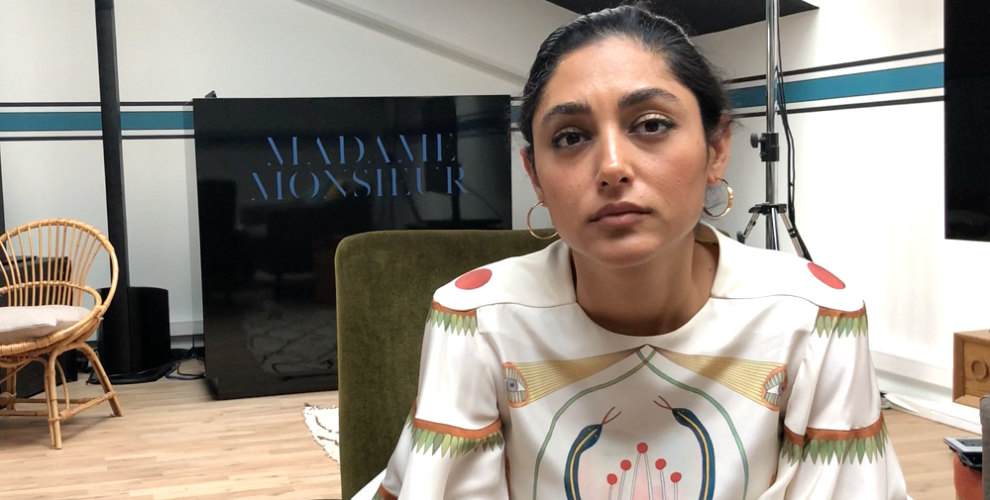 Actress Golshifteh Farahani has been one of the most important global representatives of Iranian cinema, and has starred in 6 Kurdish films to date. Golshifteh Farahani, the lead actress in the Girls of the Sun film screened in the contest portion of the 71st International Cannes Film Festival, has always fought for what she believes in. Ever since she was very young, she positioned herself against discrimination against women. She was sentenced to death for protesting the oppressive policies against women by posing in the nude. Right now Farahani lives in exile in Paris, and says: "I lost my country, but now I have the whole world."
Farahani is an actress, a musician and an activist. She has been in almost 30 films, and is one of the leading actresses in world cinema today. People throughout the world knew her name when she starred in Ridley Scott's Body of Lies with co-stars Leonardo DiCaprio and Russell Crowe. She garnered attention again with her performance in controversial director Jim Jarmush's Paterson.
STARRED IN 6 KURDISH FILMS
Kurdish cinema audiences also know Golshifteh Farahani very well. She starred in Bahman Ghobadi's Half Moon, 2 films by Hiner Salem and a total of 6 Kurdish films. Most recently, Farahani starred in the Girls of the Sun by French director Eva Husson, which tells the story of the Kurdish women's struggle against ISIS and was screened in the contest portion of the 71st International Cannes Film Festival. Farahani played Bahar, a Kurdish commander in the film.
Golshifteh Farahani spoke to the ANF about the fim and the struggle of Kurdish women.
You played an Êzidî woman and a warrior in the film. How did you feel?
When bringing this role to life, I was honored and I acted in great responsibility. These were women who had been tortured, sold, raped. But they don't play the victim, they fight. They are strong women, that is why it required great responsibility. In this role I can say that I improved myself a little.
In the film, you play a female fighter. Did you do any preparation, any research?
I already knew the history of the Êzidî people, and I knew of the Peshmerga. I have been in Kurdistan for Hiner Salem's My Sweet Pepperland. We received military training where we learned how to act with weapons. I had to also learn the Kurdish language very well phonetically. I do understand Kurdish a little bit, because it's a little similary to Persian. But I focused explicitly on Sorani, not Kurmanci, because I believed Sorani was easier. I also had  to prepare psychologically, because it would be a forceful experience.
What do you think about Kurdish women fighting ISIS?
I have never seen such strong women in all my life. Even in villages, I saw that women were doing everything. They worked the fields, they tended to the animals, they took care of the children. As the men played dominos they took care of the home. The women fighting ISIS are, in my opinion, the best example for the advancement of women and women's freedom.They are like the lotus flower that grows in adversity. Their villages are made of mud, they live under impossible circumstances, but just like a lotus flower they reach out of the mud into the light. They truly are the girls of the sun. It was extraordinary to play one of them.
The slogan "Jin Jiyan Azadi" is used in the film. What does it mean for you?
I understood very well what I was saying. For women, freedom is a hope. It is women who march towards a life full of fredom. That is not just for women, it's also for the men and for Kurdistan. "Ji bo jîn, ji bo azadî". The bird in the film is also called Azadî. I wish freedom and peace upon all the Kurdish people. I want this for women and men, wherever they may be, in whichever region. I hope in the end they will find the peace they truly deserve.
Do you think there is enough reaction from the world for the all the women who are captured, murdered, raped and sold?
That is why this film is important. People don't know. Even my co-star Emmanuelle Bercot didn't know the story of these women. But it was a genocide that happened there. People don't really know about the Armenian genocide either. They don't know what the Êzidîs went through. That is why it is important to tell their stories.
Even as we speak, there are women still who are captive. I hope they will be freed and achieve a free life. I hope this film will get the international community to be more aware and do more. Because it is truly horrifying what the women have been through.
How close is the character Bahar to your own personality?
Undoubtedly we have much in common with Bahar. She doesn't see herself as a victim, neither do I. The world really wanted to present me as a victim, but I refused it. Bahar is a guerilla, a fighter, a peshmerga, a commander. She is a daughter of the Sun. She is strong. I hope I can be as courageous as her. She is much stronger than me, I hope I can get close.