Guerrilla Roza Helin and her search for meaningful life
YJA Star commander Roza Helin, one of the seekers of meaningful life, was embedded in the hearts of her comrades with her noble stance, modesty and beauty of her heart.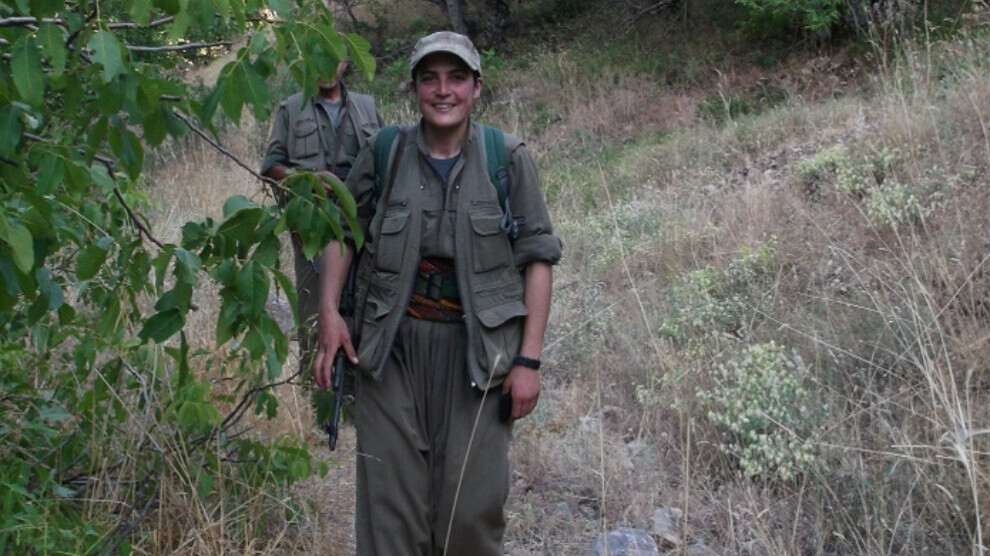 As they say, beauty hides itself from those who do not chase the truth and waits to be discovered.
So when we ask what is real, what is beautiful, or what is taught wrong, we can list an endless series of things.
But those who fight in the struggle for freedom give the best answer. The story of Roza Helin, a YJA Star commander, one of the seekers of meaningful life, is the story of finding oneself and returning to the essence while passing through a full adventure.
The story of guerrilla Roza, who conquest the hearts of her comrades with her simplicity, clarity, thoughtful and sensitive approach towards her comrades.
The beauty, excitement and the insatiable life of being in the mountains has perhaps one of its clearest example in guerrilla Roza. While participating in everything with love and affection, she becomes a determined guerrilla. That's why she is seen as a fairy godmother, an angel of happiness by her friends.
Freedom guerrilla Roza Helin was born in Dersim, the ancient land of resistance and grew up within Dersim culture until a certain age. Then she moved to Europe due to economic difficulties. There she met the struggle for freedom in Europe and set off for the mountains.
The noble stance, modesty, clarity of guerrilla Roza, who considered meeting with the mountains as a return to her essence, is described as follows by her comrades.
Duran Kalkan: Friend Roza was always smiling. She was tall and strong. She had joined from Europe and brought something from that environment, but she had not forgotten the fact that she was a free woman from the history of Dersim. She joined the freedom movement with a certain level of consciousness. Particularly in the fight against the 1999 international conspiracy, she joined the leading path of Zilan.
S he took part in Special Forces work. She studied for a long time. She received an ideological, theoretical, military and technical education. She trained in many educational institutions for a long time. She gave both ideological-theoretical and military-technical training. She was a principled person and had considerable ideological theoretical background. She was clear and embodied the philosophy of free life. She was respectful, loving, principled, measured. She created discipline and order in her environment. She was a mighty fighter. She trained many friends, trained hundreds of militants.
Seyitxan Dersim: Everything has its own unique works. Her work became famous and prominent. There may be hundreds of kinds of flowers in a garden. But there are some distinctive flowers that with their unique characteristics differ among flower varieties.
Roza also had a personality that we can cal exemplary in our guerrilla structure. This walking, living fairy godmother, the angel of happiness, she was a lively friend. She was a person sought by all friends because of her friendliness, sincerity, that sparkle in her eyes, and a smile, always on her face.
She had a flowing stance just like Munzur, with her sensitive, subtle approach. I met Roza after 2003, but before that, I had the chance to know the village where friend Roza lived, the environment where she lived, and her family. As a child of a valuable family of workers and patriots, in the villages of Eynik and Hadişer, in Çemişgezek, in Dersim countryside. Dersim culture, Alevi culture and belief shaped her personality. She never forgot that she came from both the Kurmanji and Kırmançki language and culture, and did not forget the traditions and customs of the local.
Arjin Dersim: People have a hard time defining friend Roza. Her inner beauty was integrated by her external beauty; she was a perfect harmony. You can see such features in few people. She was a very sweet, humble friend, devoted to human values. Somehow she was like an angel, and when I say angel, I don't mean it in terms of passivity, I mean it in terms of clarity, simplicity and honesty. She joined every task with great confidence and enthusiasm.
The resistance culture, the Alevi culture, the approach to nature, to women, those unyielding female characteristics that are the essence of Dersim were clear in the personality of Roza.
She was reading and following Ocalan. She wanted to understand the mission Leader Ocalan gave to the women's movement. Friend Roza was a genuine and true patriot from Dersim. At the same time, she represented Dersim and Alevi culture.