Guerrillas celebrate PKK founding anniversary in Qandil
Guerrilla fighters celebrated the founding of the PKK 43 years ago in Qandil. In a speech, it was emphasized that the resistance and the guerrillas will continue to exist as long as there are Kurds defending their dignity.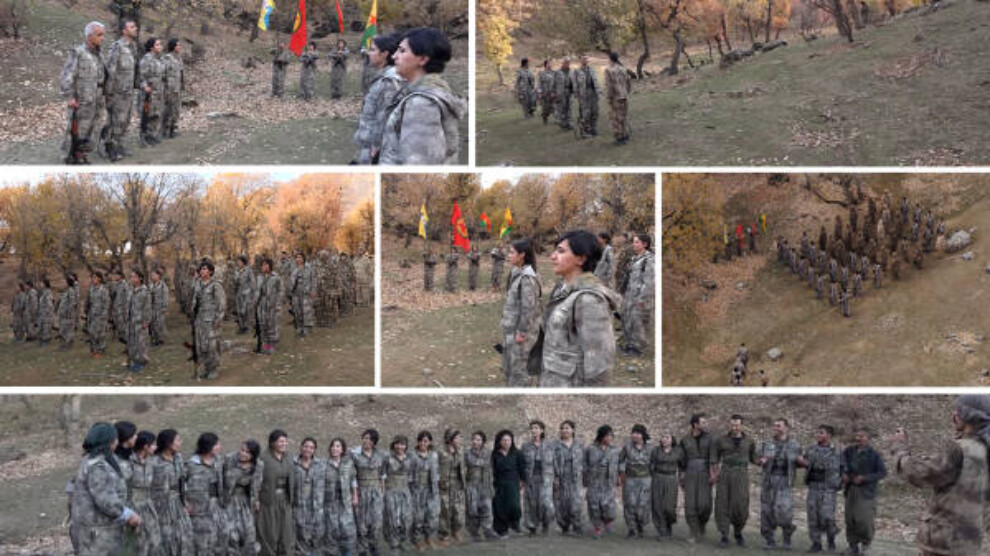 In the Qandil region in southern Kurdistan (northern Iraq), fighters from the HPG (People's Defense Forces) and YJA Star (Free Women's Troops) celebrated the 43rd anniversary of the Kurdistan Workers' Party (PKK). The event began with a minute of silence for the revolutionary martyrs in a military ceremony. In a speech, it was stressed that the resistance and the guerrillas will continue to exist as long as there are Kurds who defend their dignity.
There have been many uprisings in the history of Kurdistan, but the PKK was founded at a time when the Kurdish people had already been declared dead, explained one of the guerrilla commanders at the military ceremony and stressed that the founding of the PKK on November 27, 1978 therefore meant a rebirth for the Kurdish people and was the greatest blow to the fascist regime in Turkey.
In his speech, the commander also addressed the propaganda in the Turkish media, which has been reporting for years that the guerrillas are as good as destroyed and that only fifty or a hundred fighters have been left: "The guerrillas are everywhere in the mountains of Kurdistan. It should be clear to the enemy that the guerrillas cannot be eliminated. In the Zap, in Avaşîn and Metîna, historic resistance continues. The guerrillas of democratic modernity will continue to exist until freedom truly prevails and the physical freedom of Rêber Apo [Abdullah Öcalan] has been achieved. The PKK has equipped the Kurdistan Freedom Forces with a widely developed ideology based on the thoughts of Rêber Apo [Leader Abdullah Öcalan]. On this basis, the guerrillas will continue to fight successfully from the perspective of the revolutionary people's struggle and modern tactics. The guerrillas will smash fascism."
After the ceremony, guerrillas performed the Kurdish traditional dance, govend.