HDP and Green Left Party hold preparatory meeting for women's conference
The HDP and Green Left Party women's councils face the challenge of restoring hope and the dream of the future to society in Turkey and Kurdistan, organising them and making women the basis of reconstruction.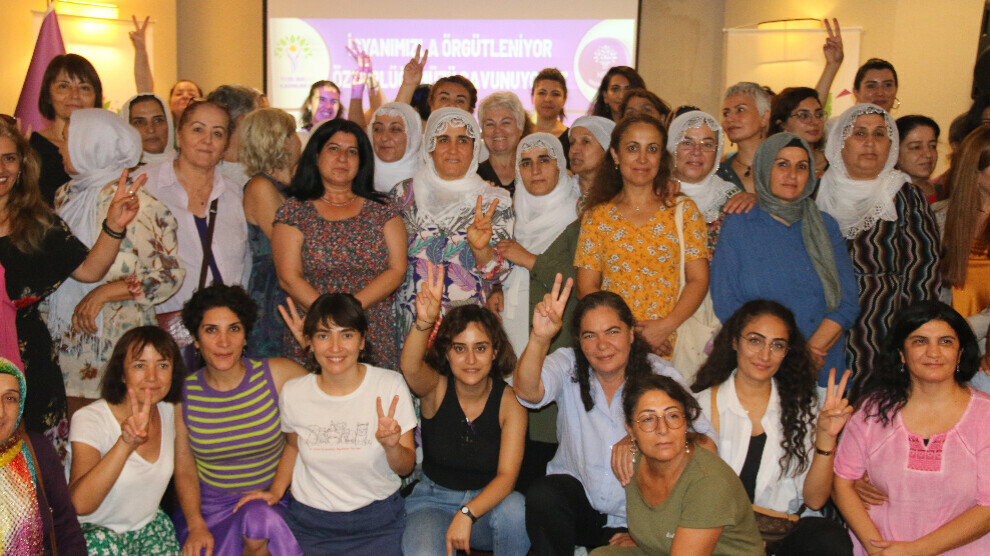 The Peoples' Democratic Party (HDP) and the Green Left Party have initiated a restructuring process after the elections in Turkey, which has been discussed with the grassroots in all committees and at local assemblies. In this context, a broad-based women's conference is also planned, for which a preparatory meeting took place at the Taksim Hill Hotel in Istanbul on Friday. The meeting of the HDP and Green Left Party women's councils was attended by almost a hundred women, including MPs, members of the Peace Mothers Initiative and the HDK (Peoples' Democratic Congress), relatives of political prisoners and women artists. The motto of the meeting was "Rebellious and organised - We defend freedom".
The co-chair of the HDP Istanbul organization, Ilknur Birol, gave the opening speech of the meeting. Stressing that women's struggle continues unceasingly, Birol said: "We are here to take up the struggle and resistance again with women's consciousness. Today we are here with women from component organisations and women who always show that we are not alone in this struggle. We are here with mothers who always resist fascism with their white headscarves, with labouring women who fight for the right to their work, with young women who have been deprived of their youth and who feel the male-dominated mentality the hardest. We are here with women who are waging an ecological struggle against the overexploitation of nature and the politics of ecological destruction. We are here as women standing up for our convictions and defending equality of freedom. We are here as women who will move this world."
Birol continued: "Our journey did not start today, we have come a very long way. As HDP and the Green Left Party, to which we have transferred our big activation today, and all our components, the Kurdish women's movement, feminists, all women who reject violence against women and all practices that ignore it, we are here at this station of a long-term struggle. We are here as women who place a high value on women's freedom, which is the most important pillar in defining the HDP, and who aim to organise within the party and spread this to the whole of society by creating a micro example. The HDP is a women's party. The HDP is a party that has conceived women's freedom as the main dynamic of a new social construction. Every meeting we hold, every word we say, every step we take is a great contribution to all social groups and their political struggles."
Ilknur Birol remarked that they are going through a difficult time, and continued: "The capitalist system is trying to develop methods that ignore women's equality. The biggest ideology it defends is patriarchy, male supremacy. With great ideological aggression, it exploits labour, identity and sexuality by instrumentalising religion, which is particularly directed against women. Women are made into commodities and ornaments and transformed to maintain male domination. The Kurdish people in particular face ideological aggression that forces them to go to war. Women are the first target in this maelstrom. Women face many aggressions on their way to liberate themselves and their people. We salute the women who resisted and lost their lives so that we can speak in this hall today, and all the political women who are resisting in the dungeons."
Birol spoke the names of imprisoned female politicians one after the other and the women in the hall responded with slogans such as "Jin Jiyan Azadî" (Woman, Life, Freedom) and "Bijî berxwedana zindanan" (Long live prison resistance) and with applause. Regarding the purpose of the meeting, the HDP politician explained that history was at an important turning point and that, aware of this change, it was necessary to talk about one's own approaches and goals, about "what holds us together and gives hope to millions of women".
Birol further said: "One of the most important areas of attack of the fascist government, which has been responding to the Kurdish people's struggle for many years in the maelstrom of war, is the isolation of the people. This is mainly the isolation regime imposed on Mr Abdullah Öcalan in Imralı. While they are building a society based on denial of whatever they want to cleanse it of, we see that they have put it in an isolation system.
War is no longer only in our region but is a threat that the imperialist powers in our neighbouring geography can extend to the whole world at any time. While a new regime is being established with the claim of a new change, in other words, while a new society based on denial is being established, we see that all the issues that are supposed to be purified in the establishment of this society have been put into an isolation regime that was originally called Imralı.
Isolation is not simply isolation, it is the name of an established regime. It continues by spreading to all segments of society and all institutions that make up a society. In other words, isolation does not only exist in prisons. Universities and institutions are also affected by isolation. Right down to the residential neighbourhoods, all centres of social life are put into great isolation so that society does not organise itself and does not become a dynamic, intervening, changing power again."
"If it is a regime that needs to be fought, and its name is isolation, then the place to go is obvious. Enforcing the legal and humanitarian rights of Mr Abdullah Öcalan and all those in similar situations is not an issue we can pass over. It is not an issue that we can leave out of politics, it is at the top of our agenda. Then the direction of our struggle should be to fight against the starting point of this situation, which is the isolation in Imralı. One of the ways to reintroduce peace and a negotiation system in these countries is to fight against isolation. Isolation is at the forefront of our struggle. Our stance against war is also one of our main struggle issues."
On the other hand, Ilknur Birol stressed that the struggle against patriarchy is a breathless permanent state and that organised women's solidarity must be expanded: "These are the main points of our roadmap. On this road, the last time we realised that our party needed to practice self-criticism was in the May elections. The struggle will not be abandoned and our task as women will become even harder in the coming period. It is our most important task to give back the hope and dream of the future to this society, to organise it and to make women the basis of reconstruction. As women who have spent their lives in struggle, we have never despaired, never bowed our heads. In the face of every pain we have suffered, we have raised our consciousness and continued on the path, holding the hand of the friend beside us. If we have any shortcomings, it is to cleanse ourselves of all our mistakes and continue on the path with great hope. We keep alive the companionship relationship of women who need each other and hold each other's hand."