HDP women: We will topple the AKP-MHP government
The repression against the HDP is intended to send a message to women that they should not defend themselves or fight, said the HDP Women's Council and announced that it will continue its struggle until the fall of the Turkish government.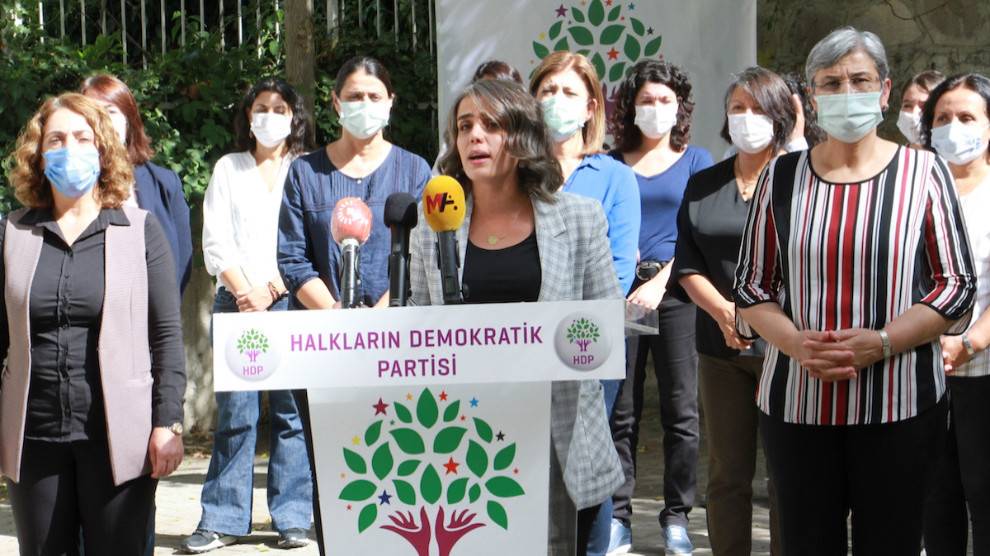 The Women's Council of Peoples' Democratic Party (HDP) has expressed its views on the Turkish government's political campaign of annihilation against the opposition. Ayşe Acar Başaran, the spokesperson of the HDP Women's Council, spoke at the press conference at the HDP headquarters in Ankara and said the following:
"Five days ago, twenty of our colleagues were arrested because of the Kobanê protests six years ago. Eight of those arrested are women. They are ecologists, academics, feminists, Alevis and activists of the Kurdish women's and youth movement, in other words women who represent the pluralism of the HDP.
Six years ago Kobanê was attacked by the barbarians of the ISIS. Our brothers and sisters there were threatened by a massacre. The AKP government insisted on watching. While the government, which wants to hold us accountable today, opened the border for the ISIS, prevented any support for Kobanê and ignored the humanitarian drama on the other side of the border, the current AKP leader and president declared that Kobanê was about to fall.
Now a revenge operation is being carried out against the HDP because the ISIS has not succeeded in taking Kobanê. The HDP exposes all the government's crimes: its war policy, its misogyny, its policy of profit and environmental destruction. But the HDP is not content with that; it simultaneously creates alternatives and builds a new life. The government is taking revenge for the HDP's electoral successes in recent years.
The attack on the HDP is also an attack on the will of women. The attacks of the last five years are directed against organized solidarity among women and the women's liberation struggle, which we are conducting with great commitment.
Since the beginning of the political campaign of annihilation, women and democratic forces have been protesting against it. They feel affected by it and raise their voices for the HDP, which is wanted to be silenced. They see this operation as an attack on the women who resist in Rojava, who stand up for the Istanbul Convention against violence against women and for equal representation, and who oppose the abolition of the co-presidency system through trustees.
These attacks are intended to convey the message that women should not resist and not fight. As the HDP, however, we are still on the streets and in parliament, and feminists and Kurds continue their struggle everywhere. We have understood the message, but we will continue to fight until this government is overthrown."