'Impunity' prevails in femicides in Southern Kurdistan
Since the beginning of the year, at least ten women have been murdered or suspiciously died in Southern Kurdistan. Meanwhile, the murderers continue to benefit from the policy of impunity.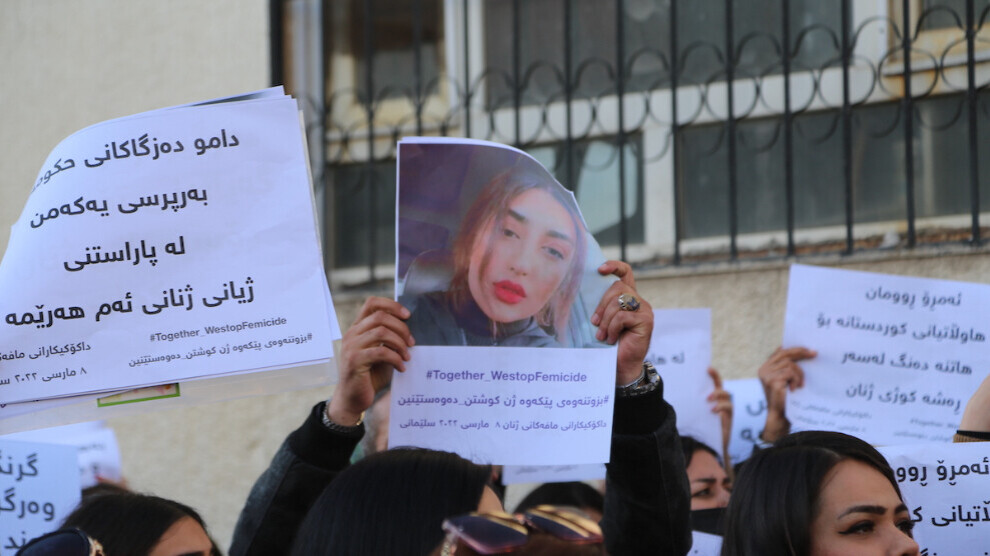 On March 8, International Women's Day, attention was drawn once more to femicides in Southern Kurdistan (Northern Iraq).
Women have become more vulnerable as the political, economic, and social crises worsen. Women are still victims of their spouses, lovers, relatives, fathers, and brothers. The government and family structures are both trying to cover up the murders.
Furthermore, rising political pressures, poverty, corruption, family or spouse pressures, and the policy of impunity force many women to commit suicide.
On December 1, 2021, Şilêr, a 24-year-old immigrant woman from Eastern Kurdistan, threw herself in front of a vehicle in Sulaymaniyah's Famili Moll bazaar. Şilêr, who was brought to the hospital, survived.
Femicides and mysterious deaths in Southern Kurdistan have recently escalated significantly. At least ten women have died of burning, gunshots, or were suspiciously found hung since the beginning of the year.
Those who murder women not only benefit from impunity, but they are also encouraged to perpetrate new offences by getting political and social support under the guise of "restoring their honor."
According to the Anti-Violence Directorate in Southern Kurdistan, at least 171 women died in 2021, 61 by suicide and 86 by self-immolation. The actual numbers are thought to be higher.