Jineology in schools in Cizire Region
Democratic Society Education Committee has brought the science of Jineology into schools in the Cizire Region.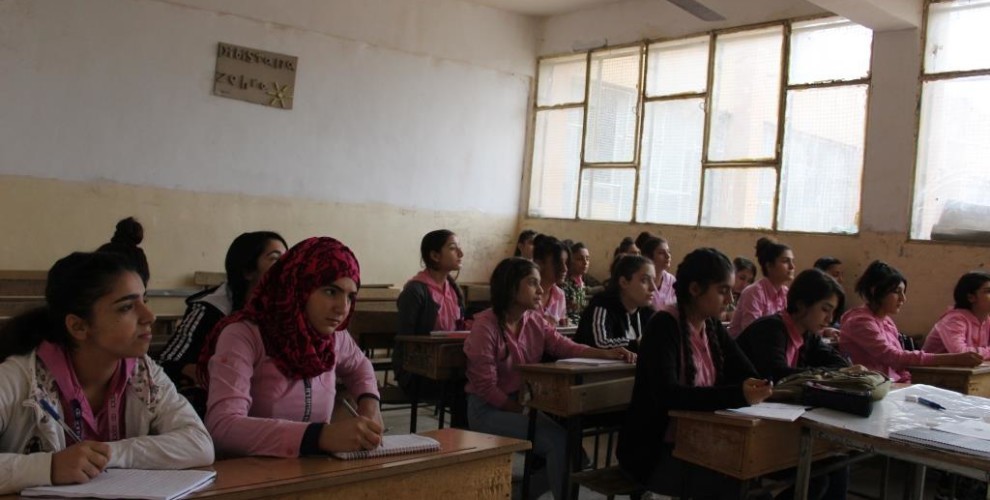 ANHA wrote that the Democratic Society Education Committee (KPC-D) Cizire Region Coordination has brought the science of Jineology (Women's Science) from academies in Northern Syria to all schools in the region.
Jineology education first started in 2016 in Afrin, and then later in Kobanê. There was a delay in the Cizire region because there were too many schools and students, and not enough teachers.
MANY TEACHERS PUT ON DUTY
KPC-D Women has put many teachers on duty to teach jineology in schools in the Cizire Region.
Large numbers of Kurdish and Arabic language teachers took Jineology training in 2018 and started preliminary classes to first graders. The committee is preparing to print Jineology books and educational materials in the Syriac language with support from the Jineology Academy.
"WE AIM FOR A MORAL AND FREE GENERATION"
KPC-D Women Member Nûpel Izedîn Ehmed said they started to tell the people about the science of Jineology before it was brought into schools and that they made the decision later on. Ehmed said they aim to raise a moral and free generation who live on the basis of the principles of common life: "A free society can't be formed by power-wielding men and enslaved women. Jineology resolves that issue and removes chaos from society."
EDUCATION IN SYRIAC
Jineology Academy Member Shîlan Mihemed said: "There is Jineology education in Kurdish and Arabic right now. Our efforts continue to offer education in the Syriac language as well."
Lava Berko said the number of students is rapidly rising as people learn about women's history.
STUDENTS: WE ARE LEARNING THE TRUE HISTORY OF WOMEN
A student named Ayenda Hiso said she is taking jineology classes because she wants to research women's history and added that jineology should be spread to a wider audience. Loranda Xelîl said they are learning the true history of women through jineology.
Teacher Muhdiyê Mihemed said men also show great interest in jineology with the truth of the science being realized and the change in mindset. Student Shiyar Hiso said all circles should take classes in this science.
PRIMARY EDUCATION MATERIAL
Democraic Society Education Committee Women had held a conference in 2015 and added the science of jineology to education materials and accepted it as a primary education material.