KJAR: Women dealt a great blow to Iranian state with the Jin, Jiyan, Azadi revolution
KJAR member Peyman Viyan said that 8 March this year in Rojhilat and Iran was different compared to previous years. "Women dealt a great blow to the Iranian state with the Jin, Jiyan, Azadi revolution."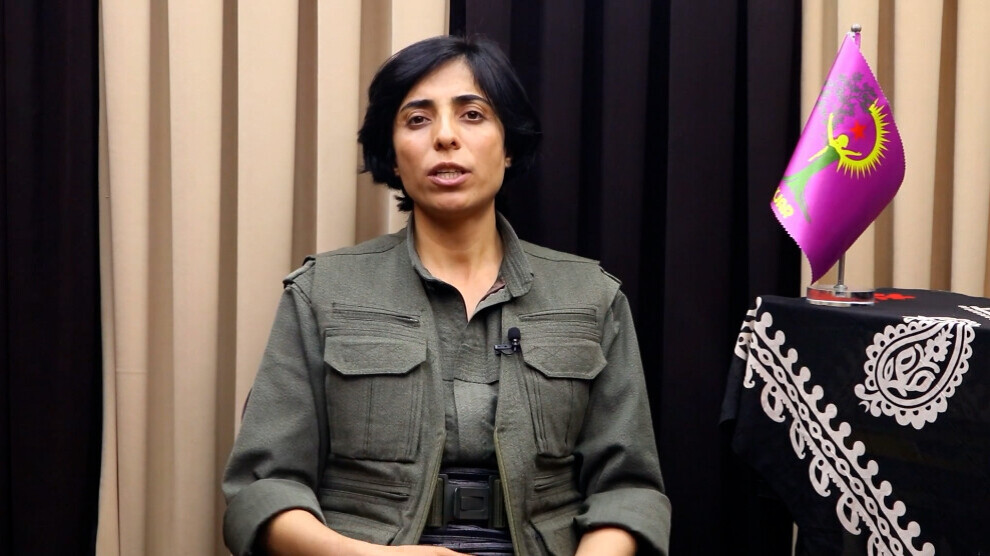 Rojhilat Free Women's Association (KJAR) member Peyman Viyan spoke to ANF on the occasion of 8 March International Working Women's Day.
Celebrating the 8 March of all women, Peyman Viyan said: "We salute the works developed with great struggle and creativity all over the world for 8 March. Women send the message that they will not bow to the power and male-dominated mentality no matter what. They once again showed how determined they are to achieve freedom. We salute the events led by the Mothers of Peace and Mothers of Laleh Park in Eastern Kurdistan and Iran. Women's committees were established in Kurdistan, Tehran and different cities on the occasion of 8 March. This shows that women are now constantly involved in the organization and solidarity process. Now, women have understood that the more they organize, the closer they are to success. We believe that these established committees will be organized in a systematic way and will convey the 'Jin, Jiyan, Azadi' philosophy to every individual in society. They should lead to the organization of women in every field."
Women have turned everywhere into an area for struggle
Referring to the earthquake disaster in Bakur and Rojava, Peyman Viyan said: "Following the earthquake disaster in Bakur and Rojava, women worked for earthquake victims with great solidarity. Women turned 8 March into the day of taking care and supporting each other, as well as living a free life. We salute the women and their actions once again. Women in Rojhilat and Iran have turned every place into a field for struggle. Whatever the cost, women never left the squares. That's why they insisted on struggle and freedom. This year's 8 March in Rojhilat and Iran was different from all the previous ones. With the 'Jin, Jiyan, Azadi' revolution, women also attracted men to the struggle. This step is definitely a very important one. The 'Jin, Jiyan, Azadi' revolution was the biggest blow to the Iranian state."
Viyan added: "The Iranian state is doing everything it can to suppress this revolution. One of the policies implemented by the state is the poisoning of female students. These uprisings once again revealed how much the Iranian state fears women. They specifically target young women to avoid facing what they fear. This revolution, which developed under the leadership of women and young people, continues. Where there are women and young people, the potential for freedom is certainly strong. Because they never bow to power. The biggest upheavals during the revolution took place in schools and universities. In school, especially young women, very radically and violently opposed the mentality of the Iranian state. In addition, young women played their roles in universities and showed their struggles very clearly.
These reactions of the students have nullified the policy of the Iranian state in schools and universities for years. This is how they want to avenge the 'Jin, Jiyan, Azadi' revolution by poisoning female students. The dictator state will give an account for what it has done. They carry out such attacks to frighten young people and their families. The state has been trying to break the will of the people with these killing, torture and execution policies for 44 years. Women, young people, teachers and families of students should hold the state to account in the squares. Again, human rights institutions need to put a lot of pressure on them. The Iranian state should know well that it cannot silence anyone by killing and poisoning."
Every woman should defend herself against attacks
KJAR member Viyan emphasized that every woman should develop her own defense against the attacks carried out by the state and added: "Every committee should have a defense committee which will address physical, psychological and emotional defense. We will further strengthen our women's defense system. We must practice self-defense in all areas of life. We are ready to take even more important steps this year. We will expand our efforts with our strength and experience to further expand the women's confederalism system.
This is how we will ensure freedom as women. We will make 2023 the year of victory and freedom in Rojhilat Kurdistan and Iran. We believe that all women and our freedom-loving people will welcome and celebrate the 2023 Newroz with this strength and enthusiasm. I salute the women whose hearts beat for freedom and all our people who resisted the oppressive Iranian state. We will definitely make this year a success year for women."