Kurdish politician Leyla Güven sentenced to more than eleven years in prison
A court has sentenced Kurdish politician Leyla Güven to eleven years and seven months in prison for "propaganda for a terrorist organisation".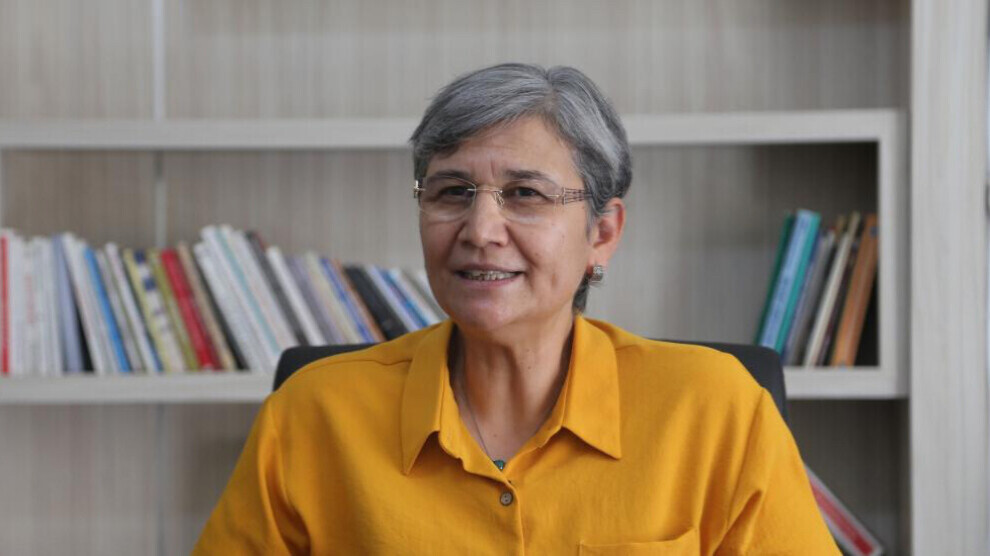 Leyla Güven, a former MP of the Peoples' Democratic Party (HDP) and co-chair of the Democratic Society Congress (DTK), was again sentenced to many years in prison on Monday. The 9th Diyarbakır Heavy Penal Court sentenced the 58-year-old politician to eleven years and seven months in prison on charges of "propaganda for a terrorist organisation" - meaning the PKK. She is charged with making statements in three speeches. Güven did not attend the trial in person, but through the video conferencing system SEGBIS from the Elazıp Prison where she is held.
In the previous trial held on 7 September, the prosecution had demanded 43 years, 1 month and 15 days for Güven.
BACKGROUND
In December 2020, Leyla Güven was sentenced to more than 22 years in prison for alleged PKK membership. The reasons given for the long prison sentence included "matriarchal ideas". A few months earlier, she had been deprived of her parliamentary mandate. The first time the mother of two children spent a long time in prison was in 2009, when she was arrested as part of the internationally criticised "KCK operations" and was only released after five years. At the time of her arrest, Güven was mayor of the Viranşehir district of Urfa.
In March 2017, she was sentenced to over six years in prison as part of the KCK trial. The sentence was only confirmed in September 2019. Seven months after her election to parliament, she was released from prison in 2019. In June 2020, she was arrested again, only a few hours after the parliament in Ankara had revoked her mandate and thus also her immunity. The reason given was the now legally binding verdict in the KCK trial.
Leyla Güven also attracted international attention in 2018 when she went on hunger strike to demand the release of imprisoned PKK founder Abdullah Öcalan. His isolation was briefly broken in 2019 by the 200-day mass hunger strike initiated by Leyla Güven, which was then joined by thousands of prisoners in Turkey as well as numerous activists all around the world.