Kurdish women in France mark March 8
The Kurdish Women's Movement in France organized events to mark March 8, International Working Women's Day.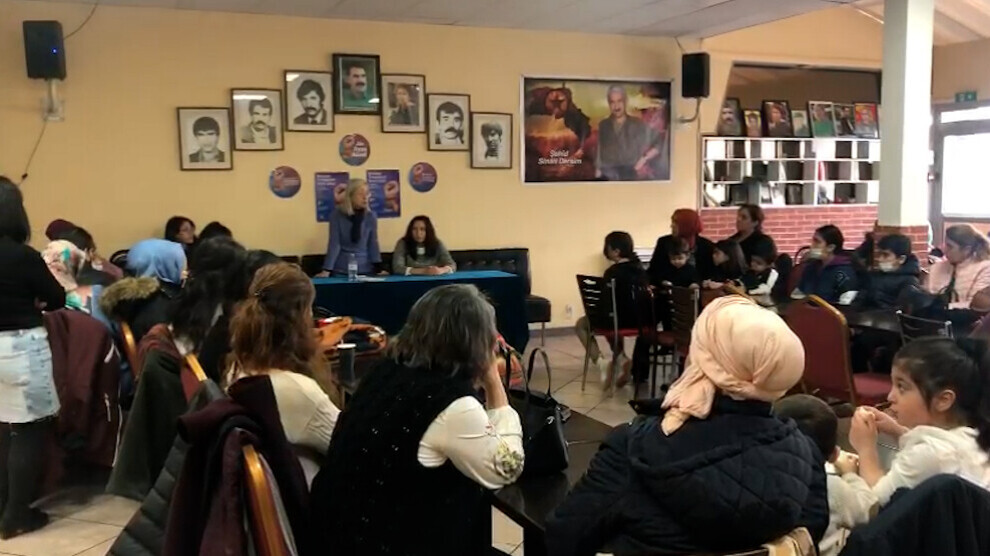 As part of activities to mark International Working Women's Day on March 8, the Kurdish Women's Movement in France (TJK-F) held events at the Democratic Kurdish Community Centers in Drancy and Villeneuve.
The women gathered for breakfast at the Villeneuve Democratic Kurdish Community Center, followed by a screening of Mylène Sauloy's film Women's War. The film, which deals with the struggle and ideology of Kurdish women, drew a lot of attention. Mylène Sauloy, a journalist who has been following Kurdish women in the Medya Defense Zones and Rojava for over ten years, returned to meet them towards the end of 2015. She is now disclosing her struggle step by step.
COMMEMORATION OF THE MURDERED WOMEN
Women gathered at the Drancy Democratic Kurdish Community Center for a panel discussion on "women's resistance and political femicide."
TJK-E member Güneş Arduç, a panelist of the event, stated the following: "When we think about political murders in Kurdish politics, the first thing that comes to mind is Sara, Rojbin, and Ronahi, who symbolize three generations of women's rights activists."
'KURDS HAVE CROSSED THE WALL OF FEAR'
Arduç said, "The murder of Sêvê, Pakize, and Fatma during the self-government resistance was also intended to create a perception within the war."
"Garibe Gezer was a woman from the revolutionary tradition of the struggle. She was imprisoned first, then raped, and it was said that she committed suicide. It would be a murder even if she committed suicide. Because what she went through would drew her into suicide. The system cannot murder all women, so instead it tries to terrify the rest of society. Fear is an incentive for people to remain silent. The Kurds, especially Kurdish women, have crossed this wall of fear. Women should be able to say 'no' in all aspects of their lives. It is vital to understand why it is necessary to say why to say "no" to not only the harsh aggression of the state, but also to everything all dimensions of life. The participation to the upcoming March 8 activities and events is highly important."