Leyla Güven acquitted of charge of sedition
Jailed politician Leyla Güven was charged with sedition because she demanded accountability for massacres of the Kurdish population. Now the 59-year-old has been acquitted.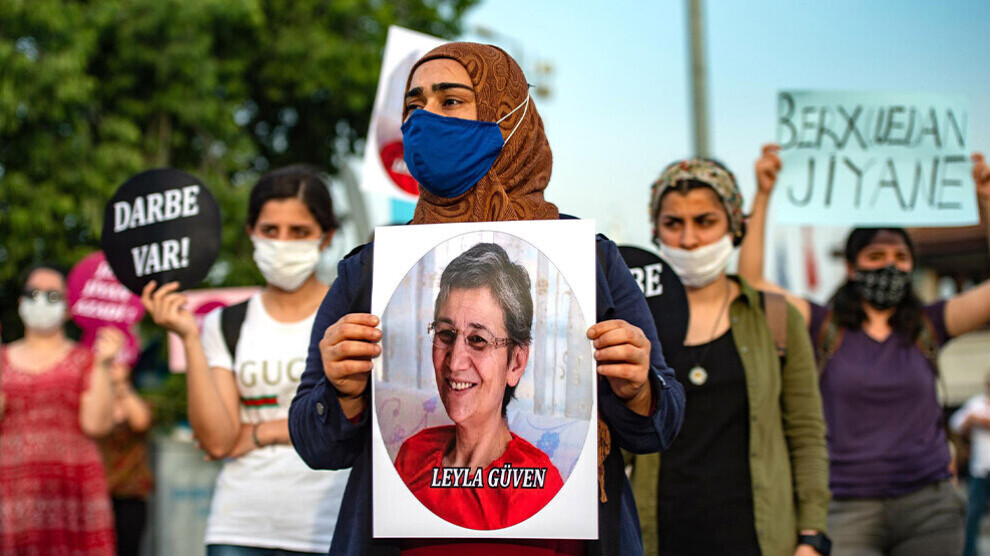 The Kurdish politician Leyla Güven has been acquitted of charges of sedition. A criminal chamber of the Silopi Regional Court in the province of  Şırnak assessed the defendant's demand for accountability for massacres of the Kurdish population as not criminal in its verdict on Tuesday. The verdict is not yet legally binding.
The Silopi public prosecutor's office had accused Güven of sedition. The core of the indictment is the authorities' belief that the 59-year-old gave a "hate speech" in order to "incite hatred against part of the population, thereby attacking the human dignity of others and disturbing public peace."
Güven gave the speech in December 2020 at a memorial event for Taybet Inan in Silopi. The 57-year-old, who was known as "Mother Taybet" during her lifetime, was shot dead by the Turkish military on the street during a curfew declared in the district town in December 2015. Inan's death was particularly dramatic because the mother of eleven's body could not be recovered for seven days. The Turkish security forces shot at everything that moved. Her brother-in-law Yusuf Inan was also shot while attempting to recover Inan's dead body.
Leyla Güven, who was arrested a few days after the memorial event for alleged membership in a "terrorist organization" and has been in prison ever since, took part in the memorial event in her role as co-chair of the grassroots movement "Democratic Society Congress" (KCD). In a speech at the time, she said: "The fight for justice for Taybet Inan and all other people who have fallen victim to the genocidal policies of the Turkish state continues resolutely. We will demand accountability from the murderers who continue to commit massacres against Kurdish society today in order to destroy this people."
Leyla Güven did not attend the trial in Silopi in person, but was integrated into the trial from a prison in Elazığ via a video conference system. In her defense speech she said that she stood behind her statements. "Of course, I will criticize the state and the government if they cause incidents like this. The death of civilians in armed conflicts must be avoided at all costs. If it is nevertheless accepted, criticism of this approach is all too human – whether the state likes it or not." 
Throughout her entire political life, she has only made one demand: end the war and establish a just peace. This goal goes hand in hand with absolutely preventing the death of civilians. "I will fight for this until the end of my days."