Memorial for Sara, Rojbin and Ronahi in Berlin
A memorial event was held in Berlin for the three Kurdish politicians murdered in Paris in 2013.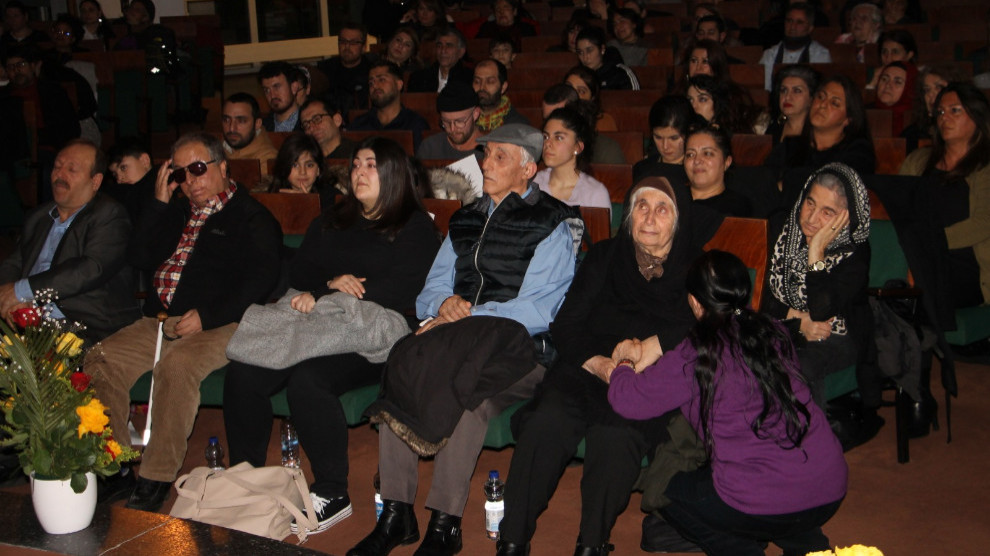 Kurdish women revolutionaries Sakine Cansız, Fidan Doğan and Leyla Şaylemez, who were murdered in Paris in 2013, were commemorated with an emotional event in Berlin.
Organized by Berlin DESTDAN Women's Council, TJK-E and International Free Women's Foundation, the event, at the Evangelische Kirche Schöneberg, started with a minute's silence.
Families attended
Zeynep and Ismail Cansız, the parents of Sakine attended the memorial together with Leyla Şaylemez's father Cumali Şaylemez and other relatives.
The memorial was also attended by representatives of Kurdish women institutions from various countries in Europe.
Women panel
A panel moderated by journalist Gülistan Çiya Ike was joined by Nujiyan Günay on behalf of Berlin DESTDAN Women's Council, Zeynep Dersim on behalf of TJK-E and Berivan Yiğit on behalf of International Foundation for Free Women.
Speaking on behalf of TJK-E, Zeynep Dersim said: "Life for us is the life on the footsteps of Sara, Rojbin and Ronahi. We do not accept any other option."
Dersim added: "The Rojava revolution is a women revolution, thousands of Yazidi women in Shengal take part in the struggle for freedom, women from all over the world from the Middle East to Europe."
Journalist Gülistan Çiya Ike, who read a poem at the memorial, said: "Three Kurdish free women reached all over Kurdistan, like seeds of revolutionary freedom. Not only in Kurdistan, but where there is a Kurd on the side of freedom, the spirit of Rojbin, Ronahi and Sara would blossom again."
Journalist Güler Yıldız participated in the commemoration event with a poem and artists Yelda Abbasi, Koma Vejin and Hozan Comerd with songs.