Online women panel demanding freedom for Abdullah Öcalan on World Human Rights Week
Women discuss and demand Freedom for Abdullah Öcalan on the occasion of World Human Rights Week.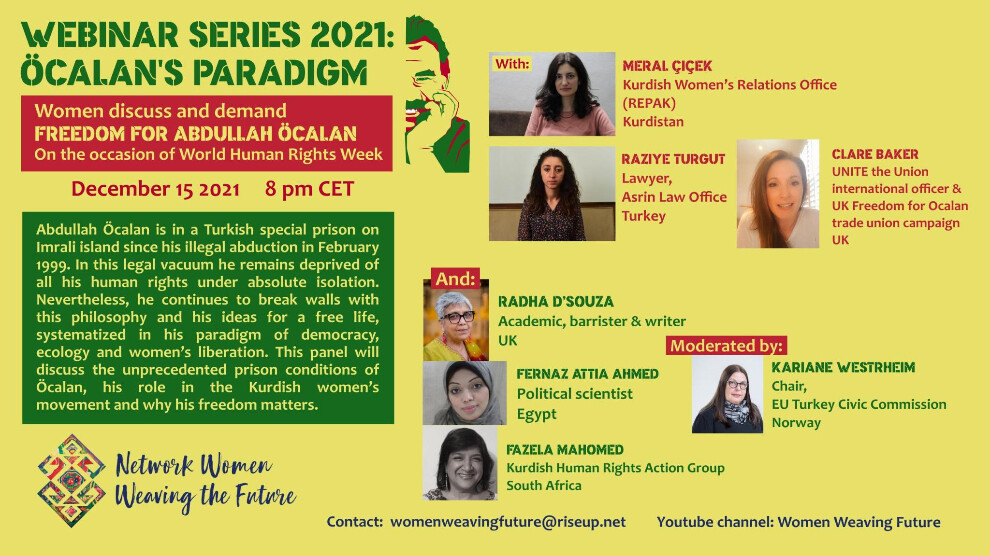 On 15 December, to mark World Human Rights Week, there will be an online panel, the final event of the webinar series 'Öcalan Paradigm', organised by the Network Women Weaving the Future, of which REPAK is part. 
The panel will see the presence of  Raziye Turgut,  Lawyer, Asrin Law Office - Turkey,  Clare Baker, UNITE the Union international officer &  UK Freedom for Ocalan trade union campaign - UK, Meral Çiçek, Kurdish Women's Relations Office (REPAK) - Kurdistan, Radha D'Souza, Academic, barrister & writer - UK, Fernaz Attia Ahmed, Political scientist - Egypt, Fazela Mahomed, Kurdish Human Rights Action Group - South Africa.
The panel will be moderated by Kariane Westrheim, Chair EU Turkey Civic Commission (EUTCC) - Norway.
You can register here 
https://us02web.zoom.us/webinar/register/WN_RV-JkdIUTgqDh5e7qtEnZg
or here

Abdullah Öcalan is in a Turkish special prison on Imrali island since his illegal abduction in February 1999. In this legal vacuum he remains deprived of all his human rights under absolute isolation. Nevertheless, he continues to break walls with this philosophy and his ideas for a free life, systematized in his paradigm of democracy, ecology and women's liberation. This panel will discuss the unprecedented prison conditions of Öcalan, his role in the Kurdish women's movement and why his freedom matters.