Police prevent "purple convoy" against femicide in Amed
The women's alliance DAKAP in Amed has again been prevented by the Turkish police from demonstrating against femicide. The "Purple Convoy" to mark the the International Day for the Elimination of Violence against Women on November 25 could not take place.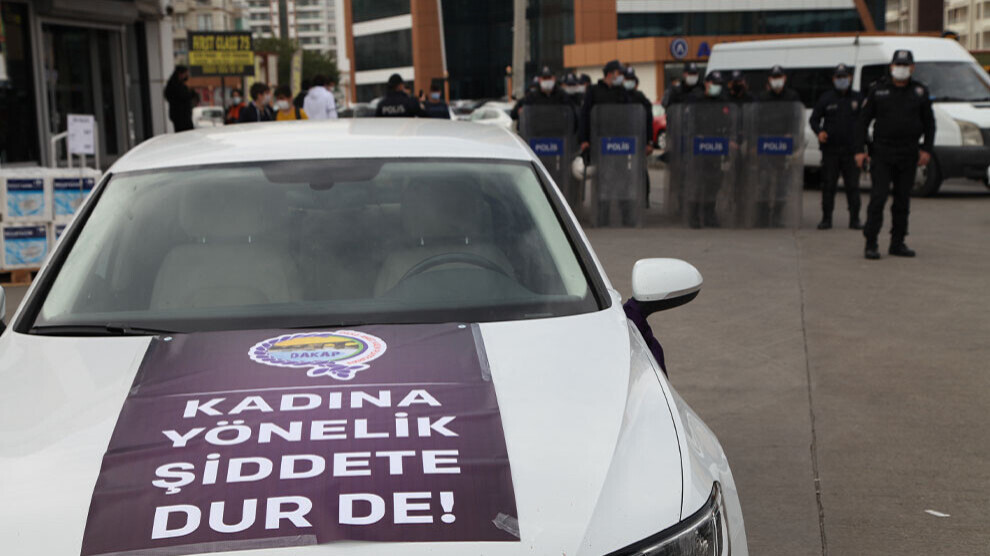 The Turkish police in Amed (Diyarbakir) have again prevented a protest action against femicide by the women's alliance DAKAP (Dicle Amed Women's Platform). After an obstruction of a rally in remembrance of murdered women on Thursday, the "Purple Protest Convoy" on the occasion of the activities for the International Day for the Elimination of Violence against Women, November 25 was also cancelled on Saturday. The reason for the ban was cited as the Corona decree of the governor.
The women, including numerous activists from the Free Women's Movement (TJA) and the Rosa women's association, as well as HDP deputies Remziye Tosun and Semra Güzel and the co-chair of the Party of Democratic Regions (DBP), Saliha Aydeniz, gathered at a crossroads in the Kayapınar district. The plan was to drive through the city in a convoy in order to draw social awareness to the gender-based femicide. Purple-colored posters with the words "No to violence against women!" were attached to the vehicles. The square was then surrounded by the police.
The activists protested against the ban with a silent vigil. The meeting ended with loud shouts of the slogan "Jin, Jîyan, Azadî" (Woman, Life, Freedom).
Fight against male and state violence
This year's activities on November 25th of the Kurdish women's movement run under the slogan "Fight against male and state violence" and are embedded in the campaign "Em xwe diparêzin" (We defend ourselves) against sexual assaults, violence and any form of oppression policy launched by the TJA in September.
The campaign includes the fight against state and sexual, physical, psychological, digital and economic violence. The women's movement demands the punishment of violent offenders. A further aspect is the state's "special war policy", which turns women into slaves through sexual violence and torture and removes young people from their social environment through drugs and targeted recruitment of informers. The TJA wants to fight together with the religious communities and ethnic groups affected by lynch attacks for their defense and to get involved against religious fanatical "Hate-Speech". The campaign also involves a struggle against the isolation on Imrali and promotion of the Kurdish mother tongue. The TJA is committed to the unity of the Kurdish people and the promotion of a collective economy. Further priorities are to defend the nature of Kurdistan and the Istanbul Convention against violence against women.