Second International Women's Conference will be held in Berlin
Some 600 women from dozens of countries around the world will meet at the conference with the slogan "Our Revolution: Liberating Life", which will be held in Berlin on 5-6 November promoted by the Women Are Weaving Their Future Network.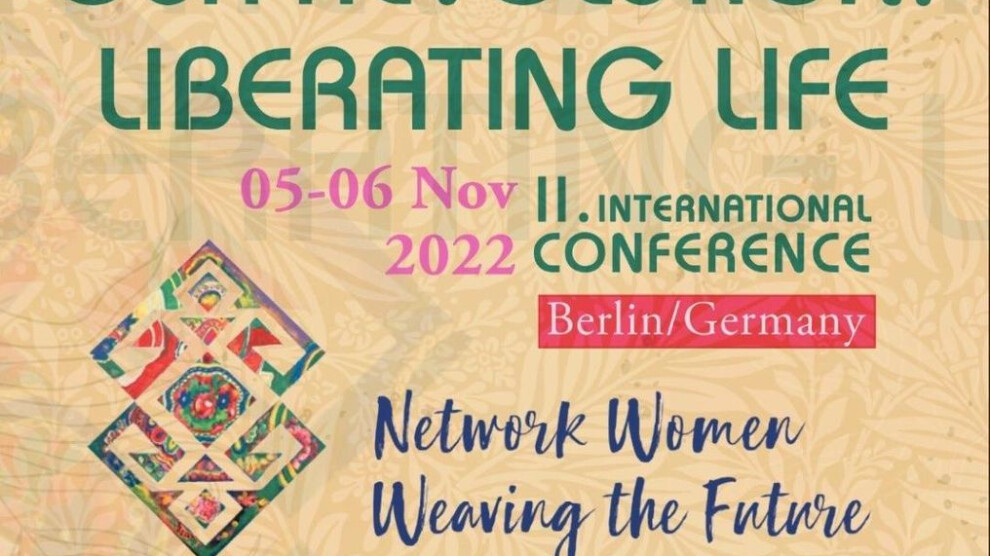 The 2nd International Women's Conference promoted by the Women Weaving Future Network will be held in Berlin (Technical University of Berlin, Straße des 17. Juni 135) on 5 and 6 November.
The organisers said that "since our first conference in 2018, we have been weaving the future to create World Democratic Women's Confederalism. Our claim is big, but wherever we touch base, we have seen that this claim can become reality. We have also seen that we can master a long road only through continuous organization. We must continue to share experiences and prepare for the patriarchal system's new attacks on our bodies, freedoms, and minds. We must create paths, methods and perspectives that can match the conditions, qualities and needs of our age."
This year, once again, hundreds of women from dozens of countries and struggles will attend the 2nd conference in Berlin, with the aim of weaving a permanent network of resistance and becoming active subjects of urgent struggles.
The organisers underlined that "the last few years have made it clear once again how important it is to be in struggle and in resistance against the systems that impose exploitation, misery and death on women. As seen during the Covid-19 pandemic, the patriarchal and capitalist system, with the help of the nation state, is deepening its methods to deprive women, LGBTIQ*, workers, indigenous communities and marginalized people of their right to life.
The revolution in Rojava has for the last decade shown that it is possible to struggle and build a different political and social system — a social alternative based on women's autonomy in all areas of life. The struggles of women in places like Afghanistan, the US, Sudan, the Philippines, Latin America, and especially the current rebellions of women in Iran and Rojhilat (EasternKurdistan), illustrate once again that this century has the potential to be the century of freedom for women and all of society. This second conference paves the way for women's collectivity and solidarity."
The two days of the conference are filled with workshops and discussions, including speakers from South America, Asia, Africa and Europe. There is also an accompanying artistic and musical programme. Simultaneous translation in Kurdish, English, German, Turkish, Arabic, Italian, Spanish and French will be provided.
Five will be the main topics addressed:
World War III and Smashing the Armor of Immunity of the State and the Dominant-Male
State Violence Over Society and Women: Its Whip, the Dominant-Male
Ecocide: Dismantling Domination, Dispossession, Oppression
Becoming – The Desired Life Will Come Not Through Miracles But Through Revolution
Feminism – The Rebellion Of The Oldest Colony And What Lies Beyond It
Sociology of Freedom And Jineoloji
Our Vision: Building Free Life
Organize!
Defend Life: No To War, Yes To Self-Defense
Finding Our Way
Jin, Jiyan, Azadi – Why A Supranational Women's Organization? What Is The Proposal For World Democratic Women's Confederalism?
The complete programme can be found here: 
Speakers at the conference will include:
Jovita Montes, from IWA-International Alliance of Women (Philippines), activists from the women's movement in Iran and Rojhilat/East Kurdistan, Nilüfer Koç from the Kurdistan National Congress, Lolita Chavez, Feministas Abya Yala (Guatemala), activists from the women's organisation RAWA (Afghanistan), Kavita Krishnan (Feminist, All India Progressive Women's Association India), Ariel Salleh, sociologist and eco-feminist (Australia), Elif Kaya (Jineoloji Center Europe), Genevieve, Peace activist, feminist and philanthropist (USA, Italy), Anjila Al Maamari, (Center for Strategic Studies to Support Women and Children, Yemen), Deniz Abukan, activist TJA - Free Women's Movement, (Kurdistan, Turkey), Nimat Kuku, (Representative of the Sudanese Women's Movement, Sudan), Dilar Dirik, political sociologist and writer, Irem Gerkuş, Kadınlar Birlikte Güçlü (Women's Alliance Turkey), Marta Dillon, (Ni Una Menos Movement, Argentina), Jade Daniels, Ra Life Urban Self Defense System Black women's movement (USA), representative from Şengal (Sinjar, Kurdistan), Asya Abdullah, Co-chair of the PYD party (Rojava, Kurdistan), Vilma Almendra (Pueblos en Camino, Colombia).
More info:
E-Mail: [email protected]
Registration: [email protected]