Story of Sewsen freed by YPJ after eight years in ISIS captivity
Sewsen Hesen Heyder has been freed by the YPJ in Camp Hol after eight years of ISIS captivity and will return to Shengal. Now she wants to fight herself to save all the abducted Yazidi women.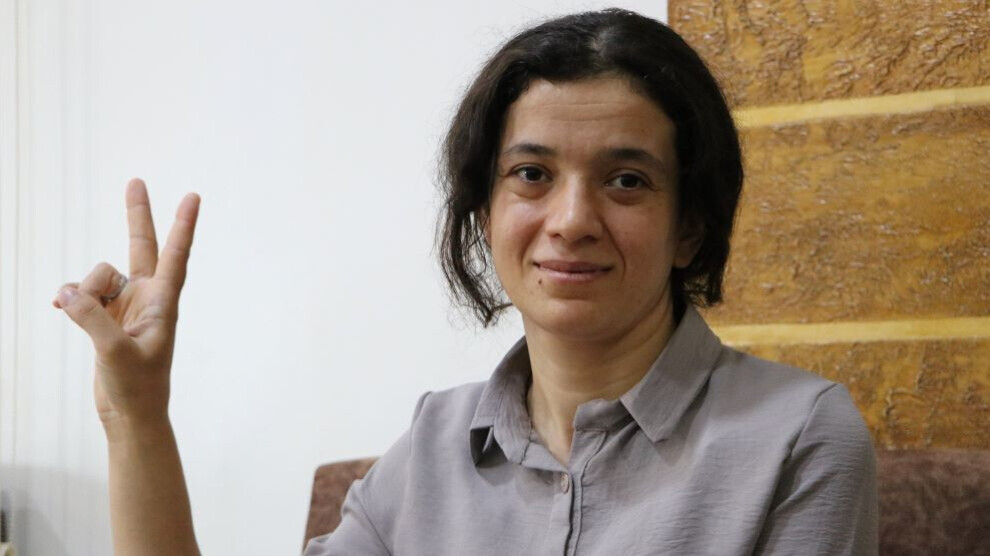 In the course of the operation in Hol Camp, launched by the north-eastern Syrian security forces on 25 August, six women have been freed from ISIS captivity so far, including the Yazidis Wefa Elî Ebbas and Sewsen Hesen Heyder, who were abducted by the "Islamic State" (ISIS) in Shengal in 2014. The Women's Defence Units (YPJ) have set themselves the goal of liberating all Yazidi women. 24-year-old Sewsen Hesen Heyder told her story to the ANHA news agency.
When ISIS invaded Shengal in 2014, Sewsen was abducted along with nine relatives. Her father, a brother, several uncles and cousins have been missing ever since. Sewsen says: "That day, the fighting continued all night. In the morning, ISIS occupied Shengal. Women and men were separated from each other. The men were taken away. We didn't know where. The women and children were taken to schools in Telafer and Mosul, and I came to Telafer with my family. Then they took us to a place in Syria. The ISIS men came there to take Yazidi women as slaves. I was taken to Qaim in Iraq with my mother and aunt and handed over to the Islamists."
There, Sewsen was separated from her mother. She was held in Anbar for almost a year. As the Iraqi army approached, she came to Mosul and, a month later, to Raqqa. Due to the liberation offensive led by the Syrian Democratic Forces (SDF) and its affiliates YPJ and YPG, the Islamists retreated further and further and Sewsen finally ended up in the last ISIS enclave, Bagouz, on the Syrian-Iraqi border. Like most of the ISIS members, Sewsen was taken to Camp Hol after the SDF's victory.
Sewsen was afraid to identify herself as a Yazidi. It was not only the fear of ISIS spreading horror stories about "the Kurds". Because of what had been done to her, she also feared social pressure. So she was registered as a foreigner in Hol Camp and lived for four more years within the ISIS structures that the current operation in the camp aims to dismantle.
"It was an unbelievable feeling of happiness"
On the twentieth day of the operation, Sewsen was freed by the YPJ. "I didn't expect that one day I would be rescued and be able to return to my family," she says. "I will never forget how the YPJ treated me. It was an unbelievable feeling of happiness." The YPJ contacted Sewsen's family and told them about her rescue. Afterwards, Sewsen was able to talk to her relatives herself for the first time in eight years. "My family was also happy and told me to come back quickly. I never thought that the YPJ were like this and that my family would accept me. I hope that all Yazidi women can return. They should not be afraid. What was done to the Yazidi women was against their will. I thank YPJ as I can now start a new life."
Sewsen forgot her mother tongue during the years of captivity; Kurdish was forbidden in ISIS. "I only sometimes spoke Kurdish secretly with other Yazidis. Since I have been in Hol, I have not spoken Kurdish once. My culture and my language have been taken away from me. However, I have not completely forgotten Kurdish and will quickly learn it again. When I was in the hands of ISIS, I once said to them that one day I would return to Shengal and no longer live under their control. They told me to forget about it. I missed Shengal very much and now I will finally see it again. I used to love reading and studying. I will continue that now."
Lastly, Sewsen says she was with many other Yazidi women in Raqqa and Mosul: "When we came together, we tried many things to save ourselves, but we never did it. The Islamists thought we wanted to escape, they locked us in and wouldn't let us out. However, the Yazidis will succeed in destroying all the locks. I will do everything I can so that all the Yazidi women will be freed."