Thousands marched for Kurdish man killed in London
A man has been charged with murdering Barış Küçük.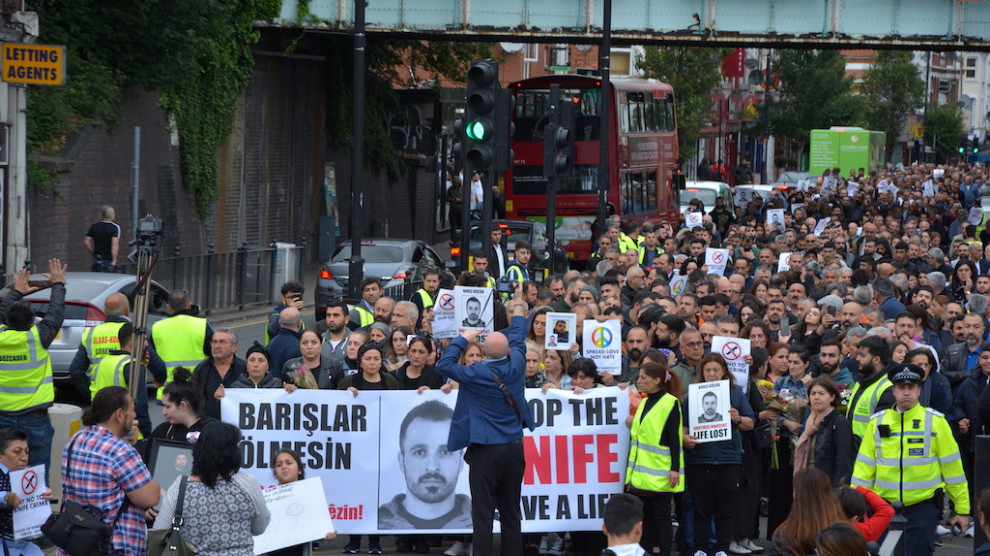 Thousands of people joined a march from the Kurdish Community Centre to Vartry Road in north London where Barış Küçük had been attacked and stabbed on 1 June.
Demonstrators march behind a huge banner that read "Drop the knife, save a life, Don't let others like Barış die".  
Representatives of several institutions also joined the march, including councillors and council officials and mother of Kaan Aslan, who had died before in another knife attack.
A sit-in at the scene where Barış was killed, was followed by a press statement, read by Kurdish Popular Council co-president Nejla Ari, which highlighted the "responsibility of the government policies in the increasing loss of security on the streets of London".
Haringey Municipality Leader Joe Ejiofor also spoke and called on the government to take satisfactory steps to counter the "increasing crimes caused by the policies".
Speaking after, mother of 20-year-old Kaan Aslan, who lost his life as result of a knife attack last year, stated that the six persons involved in the murder of her son were walking around freely.
MURDERER ARRESTED
In the meantime, Adam Tarik has been charged with the murder of Küçük. The 24-year-old murderer will appear at Highbury Corner Magistrates' Court in the coming days.
33 years old Barış Küçük was seriously injured after he was stabbed in the leg in the early hours of 1 June in Seven Sisters Road, Haringey. He was taken under treatment at hospital where he lost his life on 3 June.
On the other hand, a 17-year-old man who had been arrested on suspicion of murder on June 3 has been released under investigation.