TJK-E: It's time to expand resistance
The European Kurdish Women's Movement (TJK-E) called for participation in all actions to be staged across Europe tomorrow (Saturday 24 September) for Mahsa Emini and the people of Rojhilat (Iranian Kurdistan).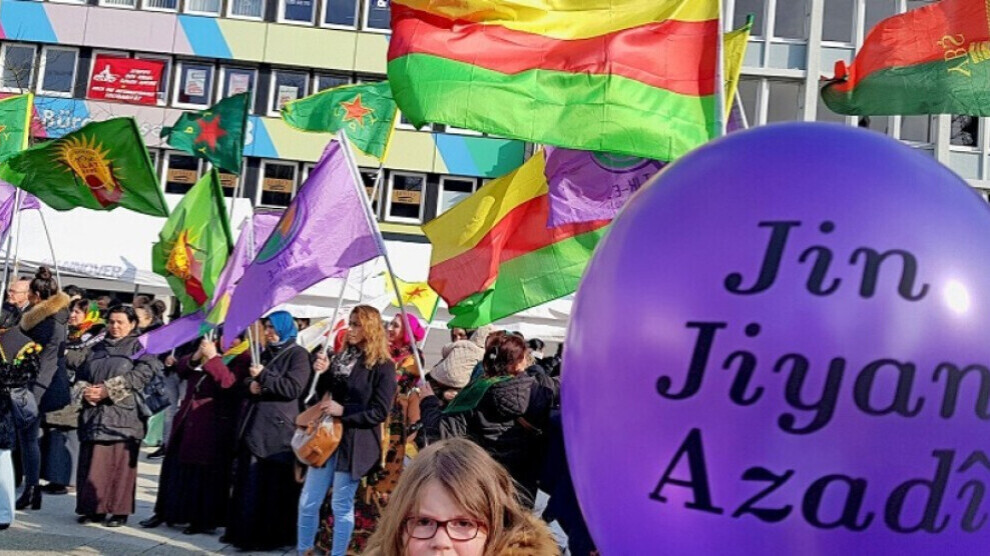 The TJK-E released a written statement on the murder of a young Kurdish woman, Jina Mahsa Amini, and other femicides.
The statement said: "Kurdish woman Jina Mahsa Amini who was murdered by the 'morality police' in Tehran, Şiler Resuli who died after she threw herself from a building to avoid the sexual attack of an Iranian Intelligence officer in Merivan and Anush Abetyan who was tortured to death by Azerbaijani soldiers after she was raped... These women have been murdered by male-state violence in the same geography. We praise those who are protesting the recent femicides and commemorate those who lost their lives during the demonstrations."
JINA'S HAIR BRINGS WOMEN TOGETHER NOW
The statement continued: "After Mahsa's murder, the revolt of women, Rojhilat people and Iranian communities expanded and spread across the country. Women who cut their hair in protest of Mahsa's murder have become a symbol of women's solidarity.
 'JIN-JIYAN-AZADI BECAME A SLOGAN'
The most striking aspect of the demonstrations was the slogan Jin-Jiyan-Azadi (Women, Life, Freedom in Kurdish). This slogan, created by the Kurdish Women's Movement and the women's revolution in Kurdistan, which has been going on for half a century, has now become a catchword in the revolts of not only women but all societies against oppressive regimes in the Middle East as well as in all parts of Kurdistan.
The fascist, male-run Iran is now trying to suppress this protest with force as in all despotic states. State violence is increasing. Because the Iranian state sees that the demonstrations are quite different from the previous ones. It realizes that protestors are questioning the very regime itself.
'LET'S NOT LEAVE WOMEN ALONE'
A Kurdish phrase that protestors uttered together about Amini during the demonstrations in Rojhilat gave a message to all of us: Don't leave me alone!
In the last week, the actions organized in Rojhilat, in Iran and abroad have become a voice for Amini. Neither Amini nor the people of Rojhilat have thus been left alone.
However, given the oppressive character of the Iranian regime, it is our responsibility that this resistance in Rojhilat should be endorsed in order to maintain the gains of women in the long run.
We, as the European Kurdish Women's Movement, have also tried to be the voice of Amini with our actions since last week. We will continue our actions in partnership with the Middle Eastern and Iranian women's movements, and various other women's organizations in Europe.
CALL FOR SATURDAY ACTIONS
Therefore, we call on the Kurdish women and the Kurdish people living in Europe to participate in all actions to be staged across Europe for Amini and the people of Rojhilat on Saturday, September 24. You can't stop women anymore. Amini's hair has sparked the Rojhilat resistance. It is time to support and expand this resistance."