'We want justice for Aysel Tuğluk, not mercy'
Dilek Gökçin from the 1000 Women for Aysel Tuğluk Initiative emphasizes that they want Tuğluk to be treated in accordance with human rights law, not compassion.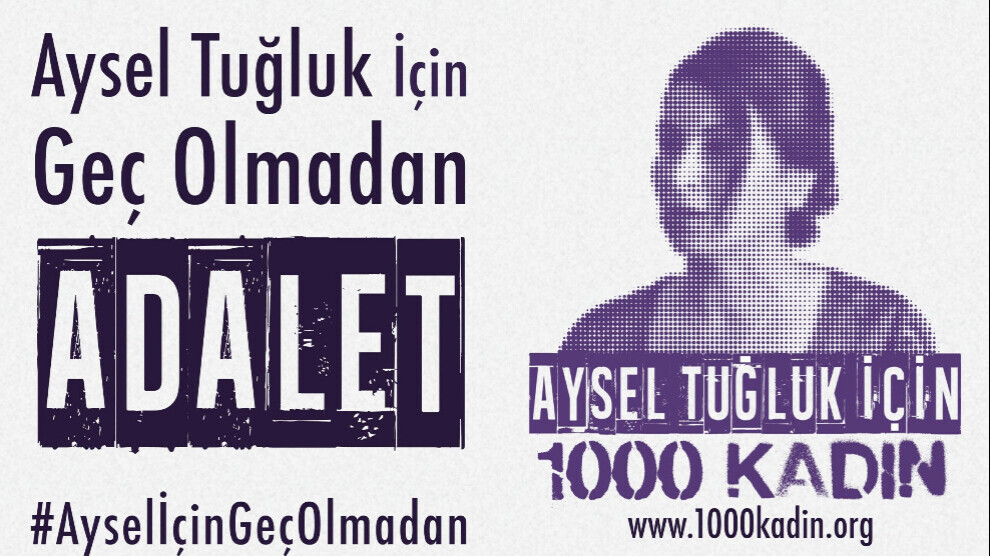 Kurdish politician Aysel Tuğluk remains in prison despite expert reports stating that she should be released because of her illness. However, the latest report prepared by the Forensic Medicine Institute sparked public reaction since it argued that Tuğluk should stay in prison.
Women started a campaign called "1000 women call for freedom for Aysel Tuğluk". They organized a petition and various events to raise concern over Tuğluk's health, saying, "We want freedom for Aysel Tuğluk and for all sick prisoners in her person."
Dilek Gökçin who takes part in the campaign spoke to ANF about the "1000 Women for Aysel Tuğluk" campaign and their demands.
'MORE THAN 100 WOMEN CAME TOGETHER'
Dilek Gökçin recalls how Aysel Tuğluk who was arrested on December 26, 2016 and later lost her mother Hatun Tuğluk in 2017, has become sick: "A barbarian mob, deprived of humanity, attacked Hatun Tuğluk's funeral. Aysel witnessed the whole process. The attack traumatized her. In fact, very few people knew for a long period of time that her health was deteriorating. Aysel did not want her illness revealed because there were many other ill prisoners. We, as rights defenders, were talking about what we could do, yet we remained silent because Aysel did not want it.
Müslüm Yücel wrote about Aysel's situation for the first time on August 30 in Nupel. Later, we once again talked about the issue with friends from the women's movement, but we were told not to do anything. However, after the controversial report of the Forensic Medicine Institute in Kocaeli, we women decided to say 'stop' to this situation. On January 2, we held a meeting with more than 100 women from Turkey and abroad and decided to organize a campaign for Aysel's freedom as soon as possible and to continue her treatment outside. In the first place, Tuğluk's lawyer, Reyhan Yalçındağ Baydemir, informed us about the process. Afterwards, we launched the campaign "1000 women want freedom for Aysel". More than 1000 signatures were received on the second day. Currently, there are signatures of thousands of women from 54 countries."
AYSEL, A PIONEERING WOMAN
Remarking that the campaign will continue with different activities, Gökçin talks about Aysel Tuğluk whom she defines as a pioneering activist concerned with various political issues; "Aysel Tuğluk is on trial for a speech she made when she was a member of the parliament. Medical reports about her are not taken seriously in any way. This should also be noted; there are hundreds of sick prisoners in Turkey right now, and we want freedom for all of them. Aysel is a prominent politician in the women's struggle. She was the first co-chair of a political party in Turkey. She chaired the DTK, and took part in the founding of the Patriotic Women's Association and TOHAV. She is a lawyer, politician and an advocate of democratization in Turkey. Aysel is a companion for some of us, but mainly our sister. Therefore, we demand her immediate release. Our campaign continues to reach more signatures and people than we expected. We translated our text into 8 languages. Simultaneously, we will send cards to Aysel to boost her morale. The first activity was carried out in Izmir, then women in Bodrum and Muğla will send cards. A press release will be held in Istanbul. Afterwards, a committee will be formed to meet the Istanbul Bar Association - you know, Aysel is still a lawyer registered with the bar - the Turkish Medical Association and the Union of Bar Associations. We also want to meet political parties."
Dilek Gökçin underlines that what they want for Aysel Tuğluk is not mercy: "When we want 'freedom for Aysel Tuğluk', we do not want mercy, on the contrary, we demand the implementation of human rights law. Because the release of sick prisoners is a right in domestic and international legislations."