Webinar: "21st Century Socialism: The PKK"
As part of the "Öcalan's Paradigm" webinar series organized by the Women Weaving Future network, political scientist Nilüfer Koç will hold a seminar entitled " 21st Century Socialism: The PKK" tomorrow, Tuesday.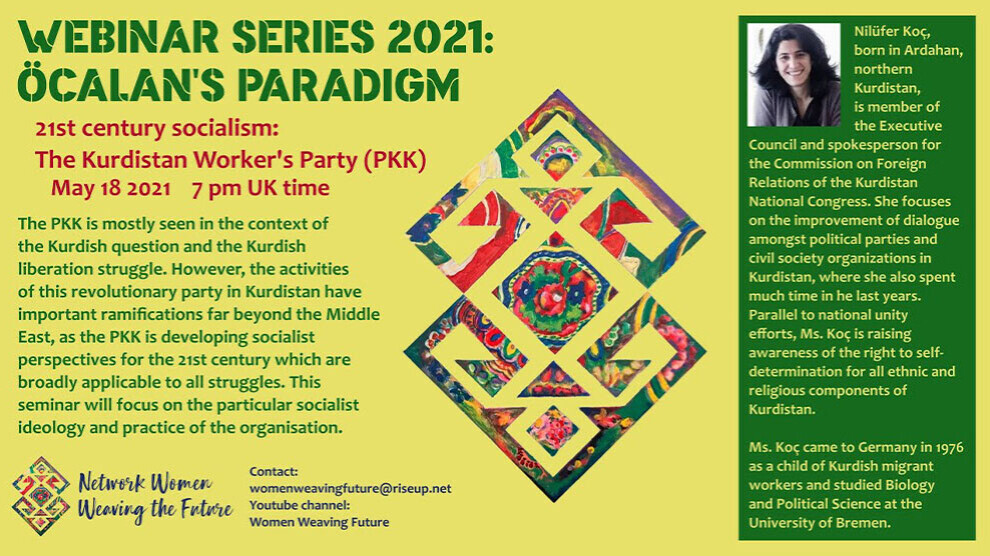 The PKK (Kurdistan Workers' Party) is mostly seen in the context of the Kurdish question and the Kurdish liberation struggle. However, the activities of this revolutionary party in Kurdistan have important ramifications far beyond the Middle East, as the PKK is developing socialist perspectives for the 21st century which are broadly applicable to all struggles.
The Women Weaving Future network is therefore dedicating a seminar from its "Öcalan's Paradigm" webinar series to the organization's socialist ideology and practice. The lecture will be given by Nilüfer Koç, spokesperson for the External Relations Commission of the Kurdistan National Congress (KNK), of which she was co-chair from 2013 to 2019. The seminar will focus on the particular socialist ideology and practice of the organisation.
The webinar with Nilüfer Koç will take place tomorrow (Tuesday, May 18) at 8pm (CEST). Interested parties can register to attend at [email protected]. The event can be watched live on the YouTube channel of the Women Weaving Future network.
Nilüfer Koç came to Germany in 1976 as the child of Kurdish migrant workers and studied biology and political science at the University of Bremen. For 30 years she has been fighting for alternatives to nationalism, sexism and capitalism on a national, regional and global level. Her current political focus is on improving intra-Kurdish dialogue between political parties and civil society organizations.
Between 2013 and 2018, Koç spent most of her time in southern and western Kurdistan (Iraq & northern Syria). In parallel with her efforts for national unity, she is active at the international level to raise awareness of the right to self-determination of the Kurdish people and all ethnic and religious components of Kurdistan. Koç is committed to the active and autonomous participation of women in all areas of society and politics.