International Women's Conference opens in Berlin
The second international Women's Conference kicked off this morning in Berlin. It can be followed online.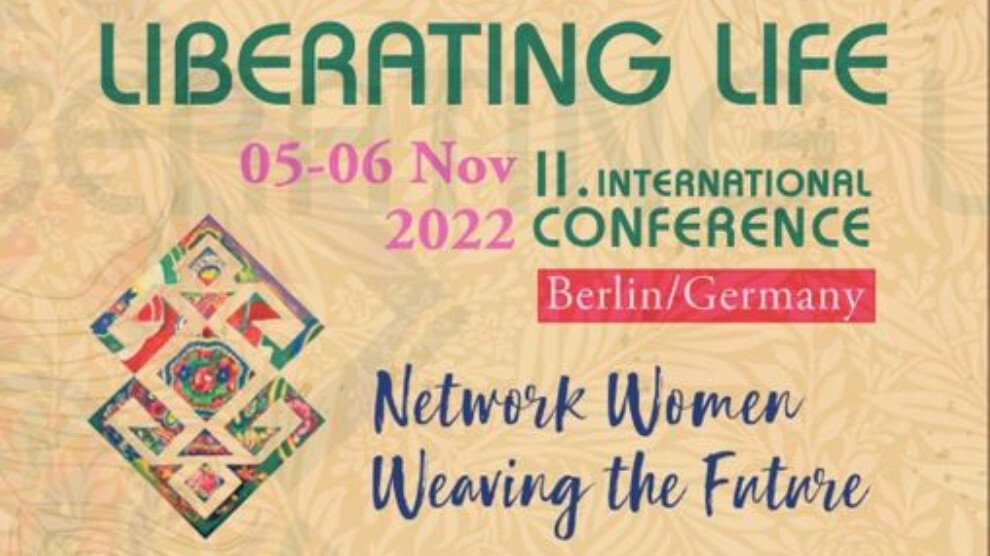 The Network Women Weaving the Future is organizing its Second Conference called Our Revolution: Liberating Life.
The conference kicked off this morning in Berlin. It can be followed online at the following addresses:
Youtube channel English:
https://youtube.com/c/WomenWeavingFuture…
Youtube channel in Spanish:
https://youtube.com/user/panuelosenrebeldiaTV…
Other languages via zoom
Meeting ID: 84741991460
password  841626.
The program for the morning is as follows:
World War III and Smashing the Armor of Immunity of the State and the Dominant-Male
What can be done on the women's revolutionary front in this age of wars, occupations, ecological crises and pandemics? e dominant system continues its war of patriarchy against women and women's resistance, while developing new methods and policies to conceal and distract from the main contradictions of our time.
Moderated by Meghan Bodette (Director of Research, Kurdish Peace Institute)
1. State Violence Over Society and Women—Its Whip, the Dominant-Male
How can we weave an alternative line of struggle against the policies of the patriarchal system? Women's struggle must go beyond only improving the system (legal rights, access to abortion, etc.) and build its capacity to struggle against patriarchy on every level of society — from state violence to the dominant male mentality.
Nilüfer Koç (Member, Kurdistan National Congress)
Mariam Rawi (Representative, Revolutionary Association of the Women of Afghanistan/RAWA)
2. Ecocide: Dismantling Domination, Dispossession, Oppression: the Subordination and Colonisation of Nature and the Ruthless Appropriation and Exploitation of Resources
How do women resist the life-threatening practices of multinational corporations and new forms of colonialism in different parts of the world? The ecological crisis has entered the agenda of humanity as the most urgent global crisis, and one which constantly produces violence against women — the fight against ecocide should be a fundamental principle of the struggle against the patriarchal system.
Lolita Chavez (Feministas Abya Yala, Guatemala)
Ariel Saleh (Sociologist and eco-feminist, Australia)
3. Making Invisible Labor Visible: The Survival of the System Is Based on Women's Unpaid and Lowpaid Labor
How can we base our class struggle on the principle of women's liberation in order to combat the foundations of capitalist exploitation? Women in class struggles have developed a perspective on class hierarchy and the state as being built on the exploitation of women's bodies and creations. Under current capitalist conditions, women's labour is more deeply exploited and rendered even more invisible.
Genevieve Vaughan (Peace activist, feminist and philanthropist, USA/Italy)
Kavita Krishnan (Feminist Activist, All India Progressive Women's Association, India)
Infos here: https://womenweavingfuture.org