Women in Qamishlo remember the martyrs of Paris massacres
Hundreds of women participated in a mass march organized by Kongra Star in Qamishlo remembrance of the martyrs of the first and second Paris massacres.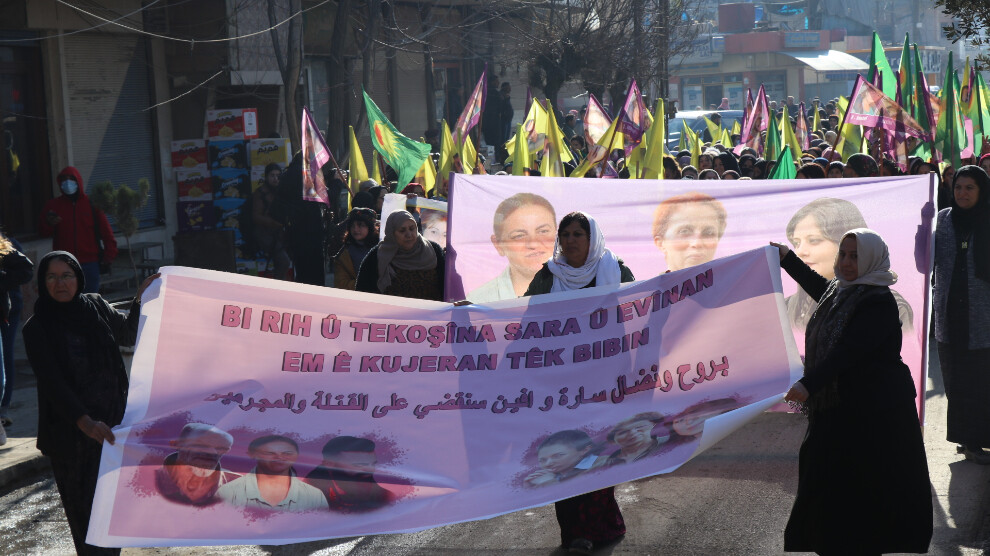 Kongra Star organized a mass march in Qamishlo to mark the tenth anniversary of the first Paris massacre on 9 January 2013, in which the three revolutionary activists (Sakina Cansiz, Leyla Şaylemez, and Fidan Dogan) were martyred, and in remembrance of the martyrs of the second Paris massacre of 23 December 2022 (Evin Koy, Mir Perwer, Abdurrahman Kızıl).
The march was organized under the slogan "With the spirit and struggle of Sara and Evin, we will eliminate the murderers and criminals," with the participation of hundreds of residents of the city, mothers and fathers of martyrs, members of civil and political institutions, women and youth.
When the participants arrived in front of the United Nations High Commissioner for Refugees building in the city of Qamishlo, they stood a minute of silence in honor of the souls of the martyrs, followed by a speech by an Kongra Star executive in Qamishlo Canton, Shaha Khalil, who affirmed, "Under the slogan 'Jin, Jiyan, Azadî', the resistance of the military forces, and the will of women, we will continue our struggle in the face of all attacks."
Shaha explained, "In the 2013 massacre that was committed against free women, the Turkish occupation sought to break the will of women and end their resistance; but women continued their activities and resistance in all arenas against all attacks and policies, and turned all cities into arenas of resistance and struggle."
At the end of her speech, she stressed the need to intensify the struggle during the year 2023, by saying: "We must turn 2023 into the year of struggle and women's resistance against all attacks targeting women's freedom," and pledged to follow the path of the martyrs and continue the activities until the perpetrators of the two massacres are held accountable.