Women protest femicide of Sakine Kültür in Silopi
Women protested the femicide of Sakine Kültür, who was murdered by İbrahim Barkın, the Head of the Şırnak Province of the Special Operations Corps in Silopi.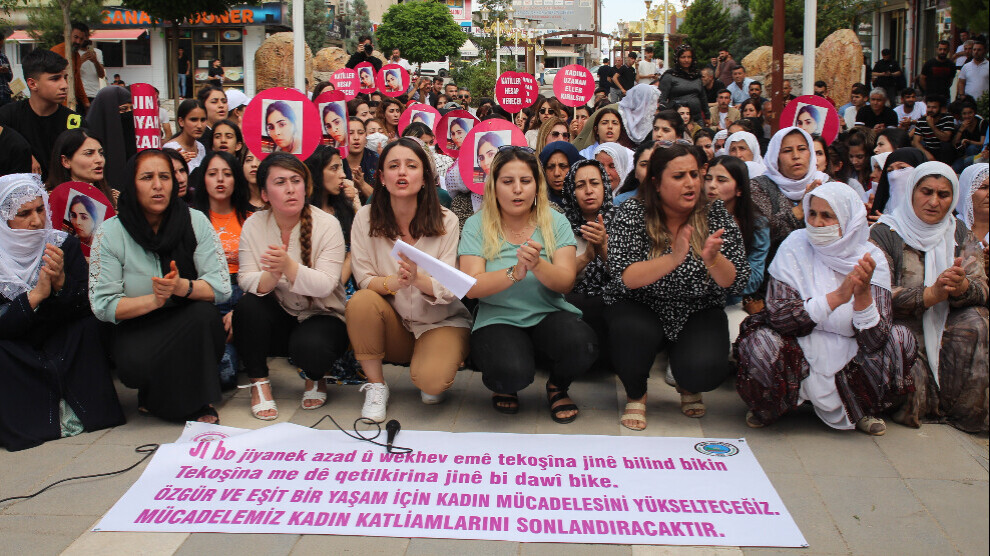 The Mother Taybet Solidarity Center in Silopi, province of Şırnak, made a press statement for Sakine Kültür, who was brutally murdered by Şırnak Provincial Head of Special Operations Units, İbrahim Barkın.
Peace Mothers' Assembly, Free Women's Movement (TJA) Peoples' Democratic Party (HDP) Silopi Women's Assembly as well as many women attended the statement held on Art Street.
'Impunity policy encourages killers'
Speaking on behalf of Mother Taybet Solidarity Center, Evin Hasanoğlu said that hundreds of women are subjected to violence every day by their husbands, partners, family members and many are killed. Noting that violence and massacres against women is a social problem, Hasanoğlu said: "Femicide is a violation of human rights. The point of view of the male-dominated mentality, which sees women's dress, words and all kinds of actions of women as a justification for violence, legitimizes this violence and slaughter. When we look at the identities of the perpetrators of femicides that have taken place in our region recently, we see that they are encouraged by the policy of impunity. Femicides occur everywhere, regardless of place or time. All necessary legal arrangements must be made to ensure that the sentences imposed on those who commit these brutal acts are actually served and that the reduced and conditional release clauses are not applied."
The women then held a sit-in, after which they marched to Sakine Kültür's house in Yeşiltepe Mahallesi.
The women went to Sakine Kültür's house and offered their condolences to her family.