Women rally in Istanbul: We have the power to change!
"We strengthen the fight against poverty, violence and exploitation! We have the power to change" was the motto of a women's meeting in Istanbul, hosted by the Platform 8 March.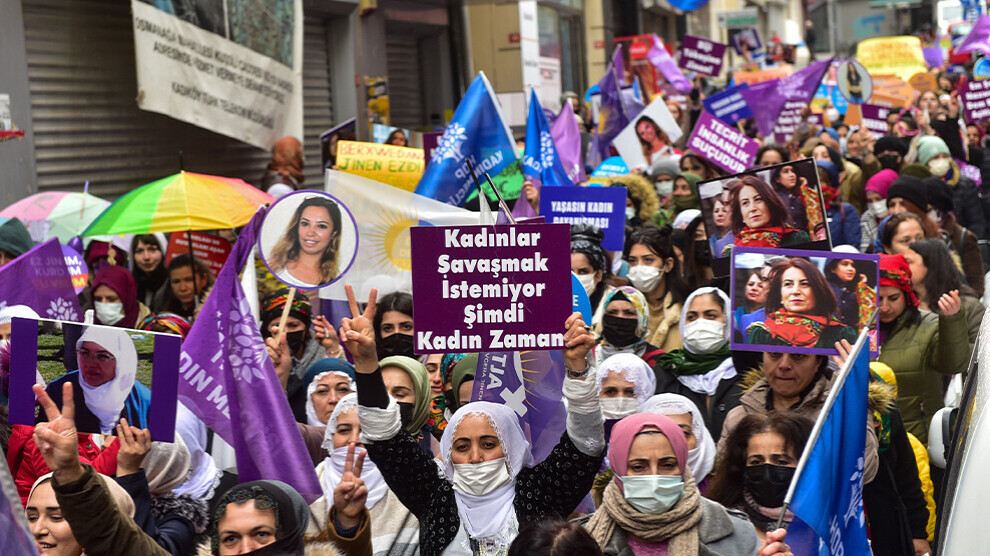 In Istanbul, on the occasion of the upcoming  International Women's Day, thousands of people took to the streets for women's rights and against male violence. The Women's Platform 8 March had invited to the rally in the Asian district of Kadıköy. "We are stepping up the fight against poverty, violence and exploitation! We have the power to change," was the slogan. It was the biggest event in the Bosporus metropolis to mark 8 March so far.
Among the many thousands of women and LGBTIQ+ were also activists from the Kurdish women's movement TJA as well as the women's councils of the Istanbul HDP and HDK. They met beforehand in front of the party office, many wearing colourful traditional Kurdish dresses. Accompanied by the loudly chanted slogans "Jin, Jiyan, Azadî" and "Long live our resistance", sounds of Erbane and pictures of imprisoned and murdered women, such as Aysel Tuğluk, Deniz Poyraz and Garibe Gezer, the activists marched through the district behind a banner reading "It is time for women's freedom". Despite constant harassment by the police, they managed to walk united to the meeting place.
The first thing that happened at the meeting point was dancing. The song "Keçê Kurdan" (Kurdish Girl) by Aynur Doğan sounded from the loudspeaker, and under a colourful sea of flags there was halay and govend respectively. Before the Women's Platform read out its declaration for this year's 8 March in Arabic, Kurdish and Turkish, the women warmed up again with slogans and expressions of solidarity. Kurdish politician Aysel Tuğluk, for example, who is not released from prison despite severe dementia, "is not alone", the women shouted. "Where is Gülistan Doku?", the student missing in Dersim for over two years, the women asked, once again. "Our support goes to the striking labourers of the Farplas factory," they continued.
We are here to expand the women's liberation struggle!
In the statement read out, the aims of the Women's Platform 8th March were expressed: "To resist male domination, labour exploitation, unemployment, poverty, precarious employment; to resist increasing patriarchal and state violence, the politics of impunity, wars, the rise of rights violations and repression against our struggles in the streets and resistance in prisons; against all forms of racism and discrimination, group-based misanthropy and hatred; against prejudice and hate speech against LGBTIQ+ and refugees; against fascism, this government and mainstream opposition. We are here to expand the women's liberation struggle. We stand shoulder to shoulder and fight together for our freedom, our lives and our rights."