Women's movements in North-East Syria call for action against femicides
Women's organizations and movements in North and East Syria condemned femicides and called for prosecution of perpetrators.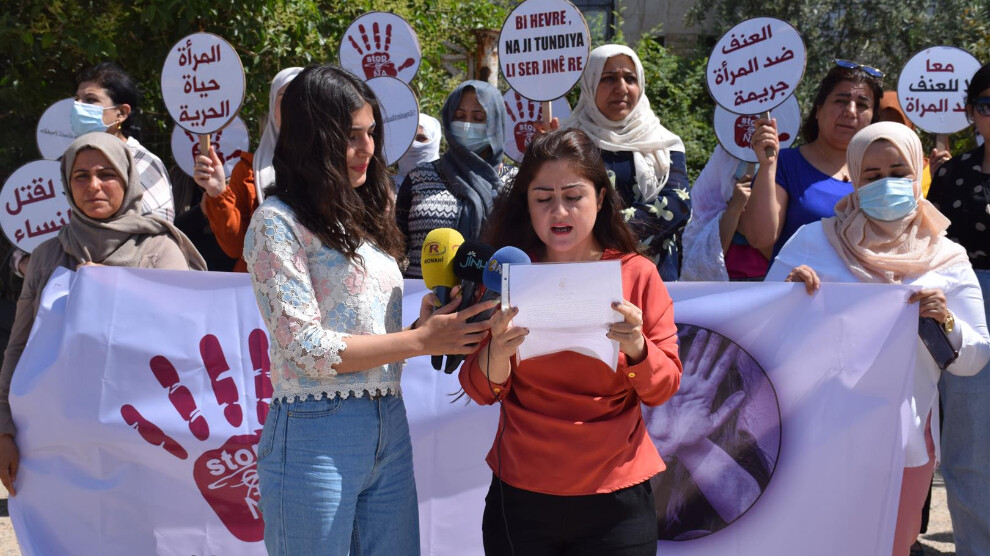 Women's organizations and movements in Aleppo, Qamishlo, Ain Issa, Deir ez-Zor and Raqqa made statements to condemn femicides.
ALEPPO
The Sara Organization Against Crimes Against Women made a statement to condemn femicides. Zeyneb Elîko, a member of the Sara Organization, read out the statement in front of the organization's office in Sheikh Maqsoud (Şêxmeqsûd) neighborhood, accompanied by dozens of women activists.
The statement emphasized that violence against women and girls was one of the most common human rights violations that jeopardize their lives.
QAMISHLO
The Qamishlo and Ain Issa branches of the organization also made statements condemning the murders of Ala Mistefa El Tahir in Ain Issa on May 11, Zubeyde Ebdulwehab in Dirbêsiyê district of Hesekê Canton on May 14, and Nûr Silêman Ibrahim in Til Hemîs district of Qamishlo Canton on April 24.
Both branches of the organization called on relevant authorities to prosecute the perpetrators of these crimes.
RAQQA
The Zenûbiya Women's Community Office, the Syrian Women's Council and many activist women condemned femicides in Raqqa.
The groups said that the women's cause was a social cause and therefore the social mentality should be changed completely.
The women called for the arrest and trial of the criminals, urging women to be united to stand against violence directed against them and to implement laws protecting women.
The Deir ez-Zor Young Women's Union also made a statement. Seher El Ewad, a member of the union, said: "We condemn crimes against women, especially in the occupied areas. Women should unite and fight all forms of violence."